Preparation of predough without fermentation
A predough  is prepared in advance, from a part of particular ingredients from the main recipe. After a certain time, in which it develops to a maturity phase, suitable for further processing, we mix it with the remaining ingredients from the recipe into the final dough.
Depending on the type and method of conducting the process, and the choice of raw materials, predoughs affect the taste, aroma, volume, core and crust of the product, freshness, durability, as well as more economical consumption of raw materials.
The inclusion of predough technology eventually pays off due to better product recognition in the market.
The desired effect depends on the raw materials we work with and the end result we wish to achieve.
In general, predoughs are divided into 2 groups:
Microbiologically conducted prodoughs, based on fermentation: click HERE for more information
Predoughs without fermentation are described below
Preparation processes for PREDOUGHS WITHOUT FERMENTATION
are based on physical methods of processing raw materials, in terms of:
cold soaking of grains, various seeds, legumes and their mixtures in water
thermal processing of a mixtures of water with flour of different types and milling grades, with added seeds, grains…
In doing so, spontaneous or controlled enzymatic activity takes place in the flour aided by its own or added enzymes.
There are 3 basic methods for preparing predough without fermentation: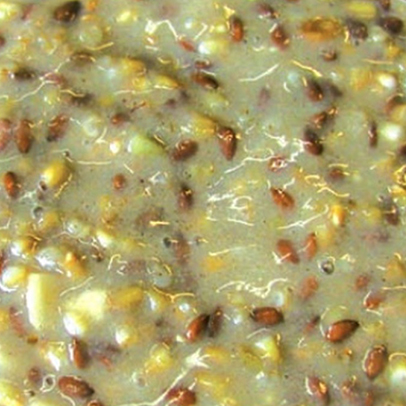 Brewed soaker
Thermal processing of flour or flour mixtures with added seeds, grains, legumes. The purpose of the process is to promote soaking and softening of the raw material as well as to stimulate the natural enzymatic action which decomposes starch and creates aromatic substances that affect the taste.
DIOStart® Aroma tehnology
Brewed soaker is especially interesting and by using modern techniques really simple to manage. For complete control and reliable conduct of the procedure, we recommend a controlled brewing process based on Diostart® Aroma technology.
This procedure basically involves heating a mixture of water and various milling products, as well as seeds, to 65°C, with the addition of BIO enzyme starter, DIOStart® Aroma.
Aroma predough preparation procedure:
During heating, enzymatic reactions take place, which promotes maltose formation. Heating positively affects the intensity of soaking and water binding. The resulting, slightly sweet mass, is used as an additive when producing baking products.
Upon completion of the process, the mixture is cooled. At a temperature of +8°C, it is stable for up to 48 hours.
The main advantage of the DIOStart® Aroma method is the possibility of creating your own recipes. For the preparation of various products, we use basic, unprocessed raw materials, such as flour of various milling grades, from fine wheat semolina to rye grits, various seeds, grains, legumes… We determine the composition of mixtures ourselves, whereby we can choose the best quality raw materials of known origin, in accordance with our tastes and beliefs.
DIOStart® Aroma is a technology suitable for the production of various baking products since it beneficially affects water absorption and freshness, and gives the products a full and rounded taste. It combines very well in recipes calling for different types of wheat or rye sourdough.
The first thing that comes to mind are popular wholegrain breads with added seeds. However, DIOStart® Aroma technology can be used for preparing all types of products, including white wheat breads and butter pastries.
For products such as brioches, the addition of sugar, eggs and fat can be reduced by 50% using DIOStart® Aroma technology.
For the DIOStart® Aroma predough based on rye flour, in fact, there are no limitations of use. Users around the world add it to pastry doughs with butter, leavened puff pastry or common baking pastries and bread dough.
Dosing guidelines for DIOStart® Aroma predough
The amount of predough dosing in batches varies depending on the raw materials used and individual requirements. It combines well with different types of wheat or rye sourdough.
The table below lists the informative amounts of Aroma predough added to the batch. The amounts in the table are informative and refer to the flour / flour ratio.
2-3% addition
7,5% addition
10% addition
Wheat white pastry
Multigrain bread
Multigrain bread
Rye pastry
Rye mixed bread
Rye mixed bread
Special pastry
Wheat mixed bread
Wheat mixed bread
White bread
White bread
Toast
Toast
Bread with seeds
Bread with seeds
Benefits:
Benefits:
Benefits:
– Proper browning
– Succulent crust
– Prolonged freshness
– Well rounded, harmonious taste
– Prolonged freshness
– Aromatic taste with a slight hint of malt
– Darker, rustical crust color
For the preparation of predoughs using controlled brewing, we offer natural DOSStart® AROMA starters, with BIO certification.
In the baking production, the preparation of predoughs by means of brewing is carried out in special devices called fermenters. Inside these, predoughs are under control, and it is possible to measure and regulate the temperature, mixing, cooling, transfer and convenient storage. They are made so that they can be easily and efficiently cleaned. For larger systems, automatic cleaning systems (PIG, CIP) are provided.
Click HERE to find out more about the equipment for predough preparation.
Click HERE to find out more about preparation of predough with fermentation.