Professional baking trays
Baking trays are an important piece of equipment in every bakery and pastry shop, as well as in bread shops and gastronomy, and account for a fairly high cost.
We offer standard trays, made of aluminum-manganese alloy, 1.5 mm or 2.0 mm thick. Stainless steel trays are available for special requirements.
Depending on their purpose, we choose between solid and perforated trays. The latter are intended primarily for baking in convection ovens, where the heat for baking is transferred by circulating air. The perforations enable even air flow throughout the baking chamber.
Standard baking trays feature 3 mm perforations, however versions with 2 mm perforations are also possible. The difference is visible on the bottom of a baked product: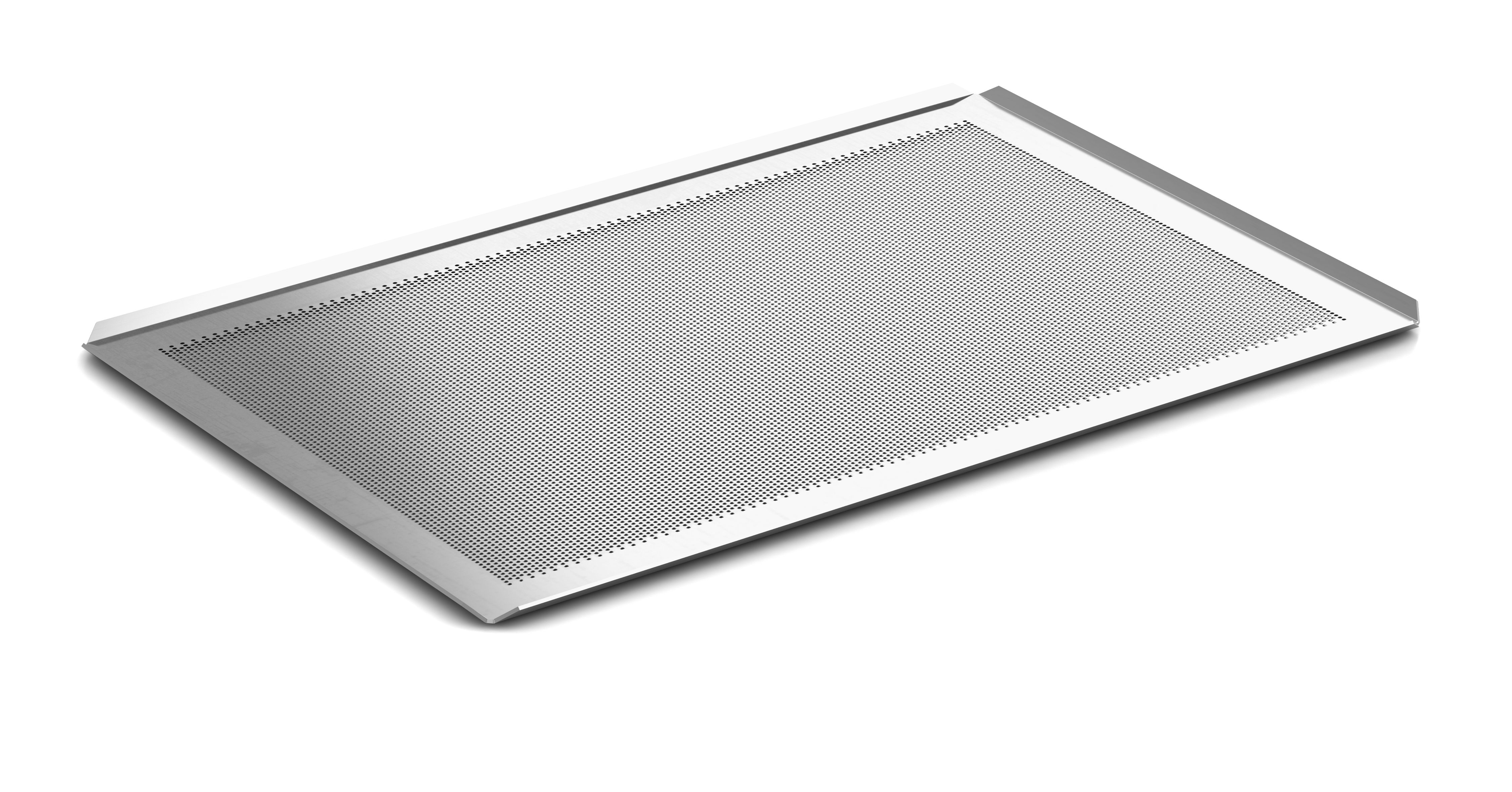 Standard perforated trays with 3 mm perforations
Fresh dough enters the perforations and causes a typical baking tray pattern.

Micro perforated trays with 2 mm perforations
Fresh dough does not enter the perforations completely so the bottom of the baked product is smoother.

Depending on the purpose and intensity of the use, we choose between different rim designs.
The rims give the tray certain stability and convenience. For example, we can easily stack trays with upturned rims on top of each other.
When it comes to our selection of trays, it is primarily influenced by the method of production they will be used for. Before buying, it is necessary to check if, apart from tray dimensions, production and washing devices require special rim shape.
An important decision when choosing a tray is the type of nonstick coating. We choose between Teflon and silicone coatings, and the choice depends on the usage:
Teflon coatings (black) based on PTFE (polytetrafluoroethylene) are suitable for baking usual baked goods and pastries, at baking temperatures of up to 260°C.
They are not recommended for baking sweet goods.
Special Teflon coatings based on FEP (tetra fluoroethylene-hexafluor propylene) are intended for products with a higher sugar content and baking at temperatures of up to 205°C.
Multilayer Teflon coatings (green) based on PFA (perfluoroalcoxyalcanes) are used for higher mechanical loads and in bakery lines for the production of sliced breads, hamburger patties, as well as for products with a higher sugar content.
Rubber-based silicone coatings are suitable for almost all types of products.
For products with a very high sugar content, special, hard silicone coatings with glued resin (silicone glaze) are available.
For the production of coated products, we recommend using stainless steel trays.
If we want the service life of our trays to be as long as possible, we have to maintain them appropriately.
The surface of new aluminum trays, without a nonstick coating, can be slightly greasy due to the grease residue from the tray forming device. Before use, the trays should be washed in a washing machine at 60°C and dried well.
Trays and molds with a nonstick coating require especially careful handling and care:
Do not place empty trays in the oven at a high operating baking temperature
They must be completely dry before usage, otherwise the dough sticks to the surface and destroys the coating
Air-dry trays or place them in a convection oven at approximately 150°C for 15-20 minutes
Do not use any sharp objects, knives, scrapers or hard brushes for cleaning
Do not use aggressive cleaning agents, at the end of washing cycle, they should be thoroughly rinsed with running water
Never cut the products while on the trays
Stack the trays carefully so as not to damage the coating
When a product starts sticking to the tray's surface, it is a sign indicating that the service life of a coated tray has expired.
Do not use trays with a damaged coating!
More at Accessories