Electric deck ovens HELIOS
Electric deck oven with radiated heat and resting atmosphere. Helios is the right solution for traditional bakeries, food retailers and gastronomy.
The oven system with stackable stove modules: 1 – 5
Internal deck dimension (w x d): 600 x 400 mm / 600 x 800 mm / 800 x 600 mm / 1200 x 800 mm
Separately heatable modules
Top and bottom heat individually adjustable
Baking on heat-storing stone slabs provides true quality of the trade in the shop.
Options:
Proofer and under racks
Intermediate rack
Hood with steam extractor
Black color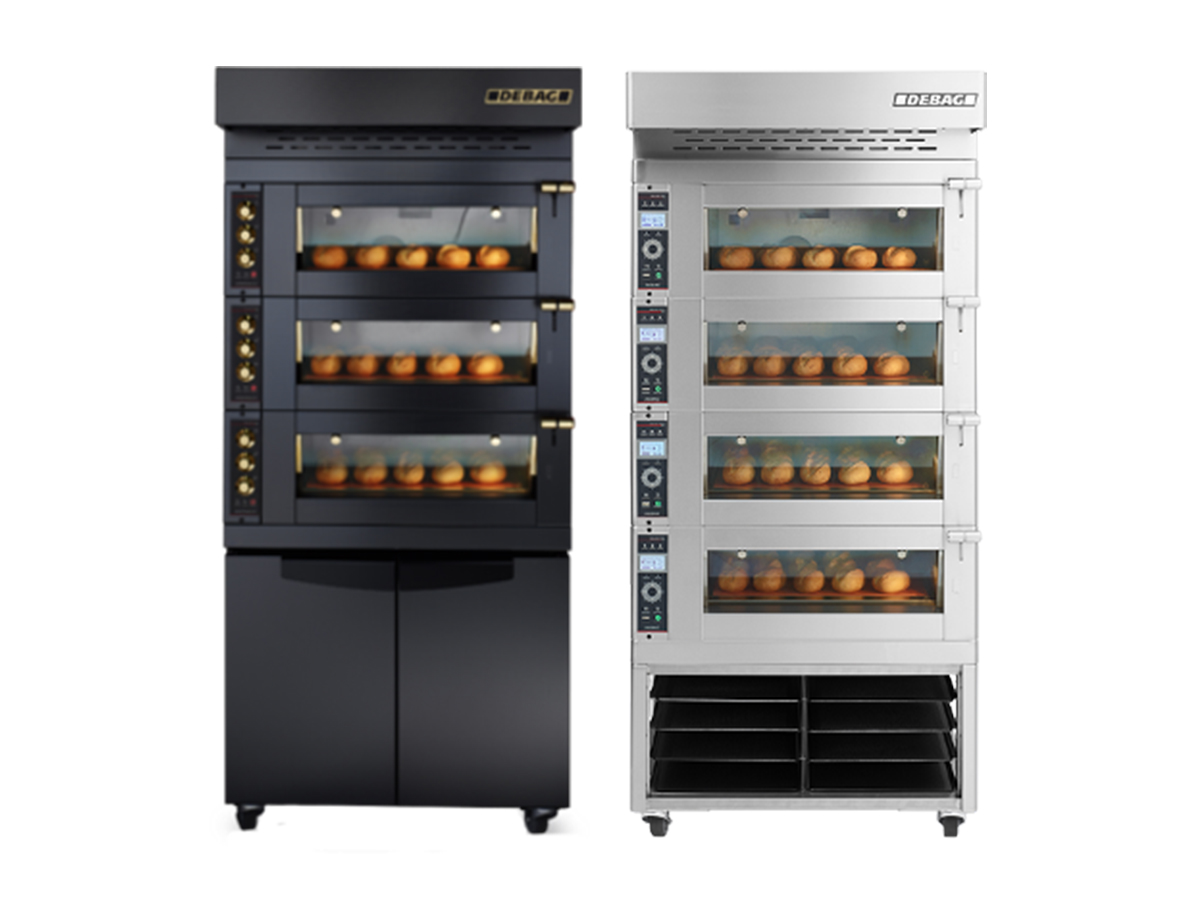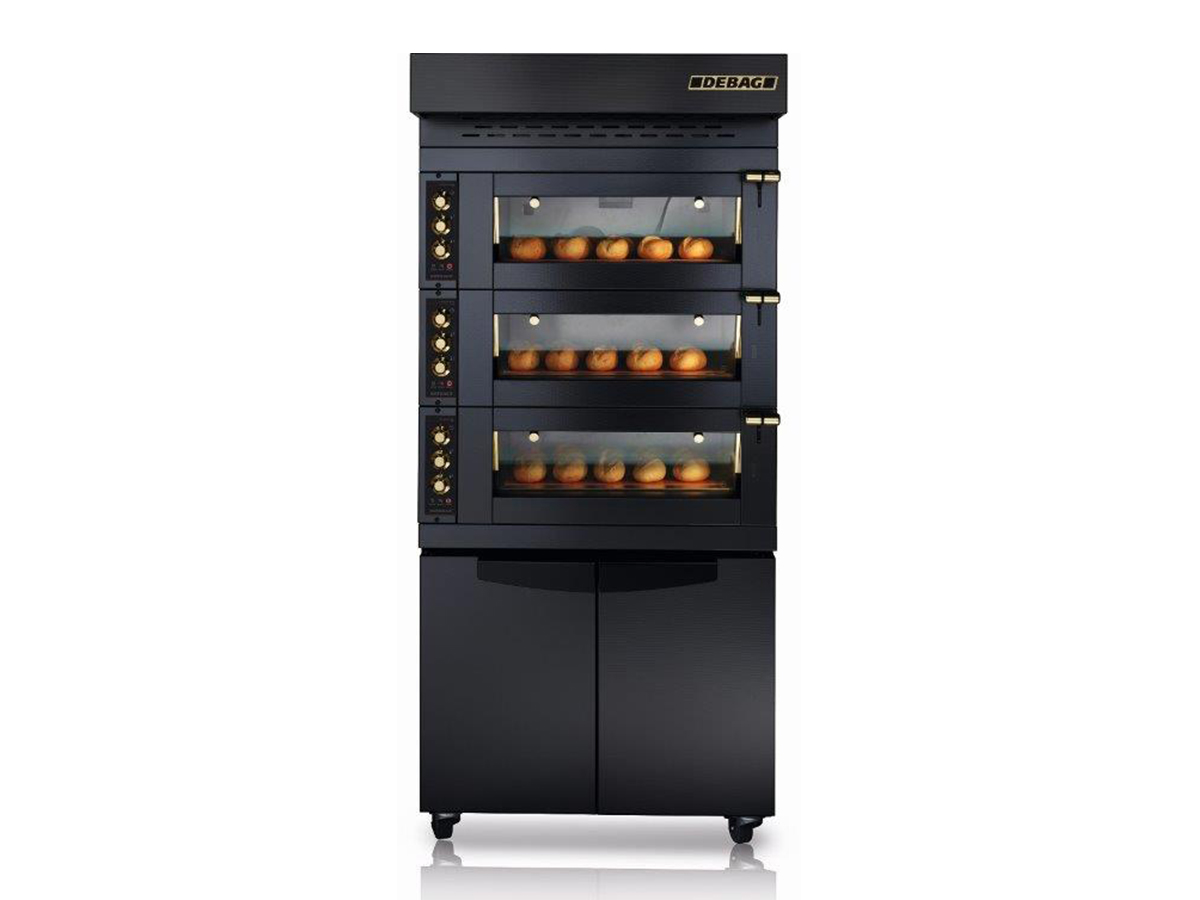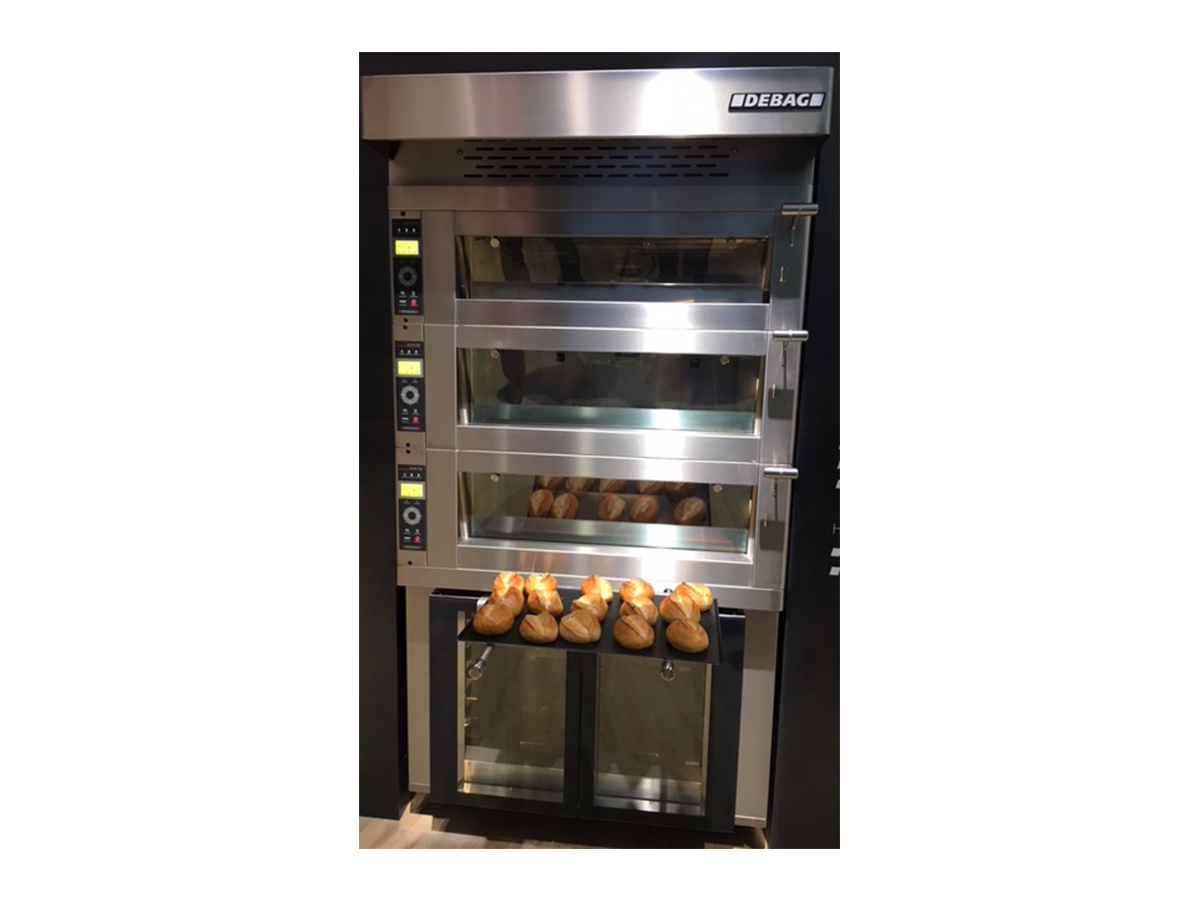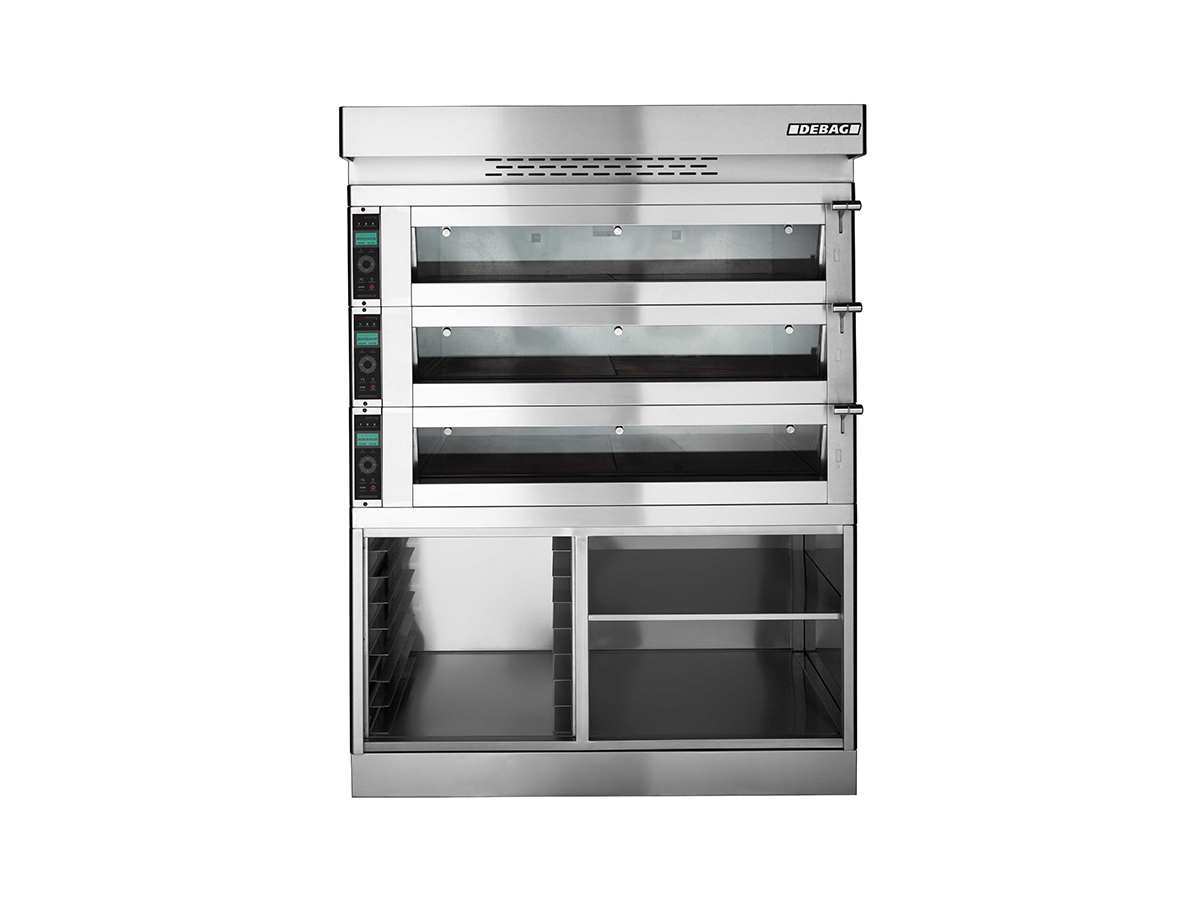 Oven control:
Programme control DEBAG PRO (up to 99 programme settings, USB connection, oven connection and remote maintenance via FilialNet)
Manual control DEBAG MAN (unctional and clear, simple to operate via the electro-mechanical switching components, no connected devices or USB connection)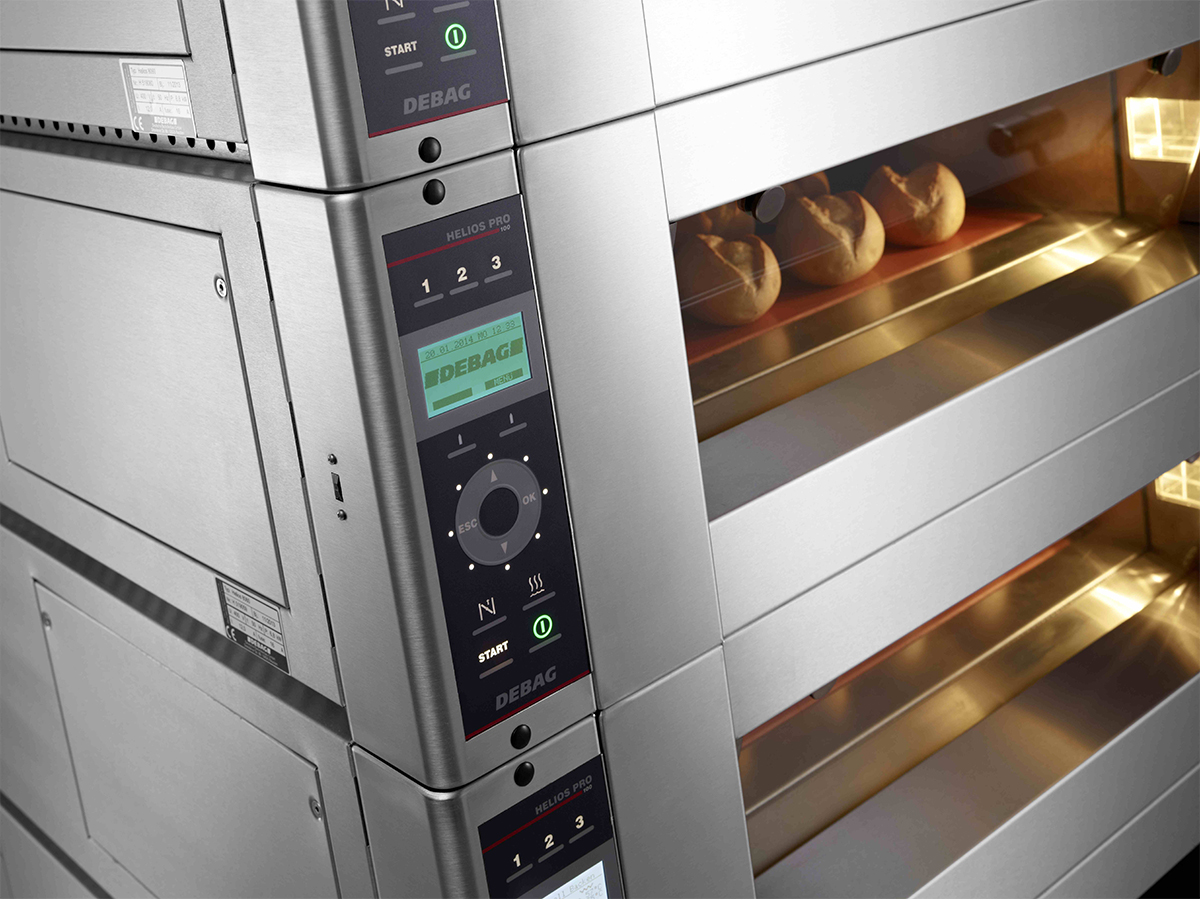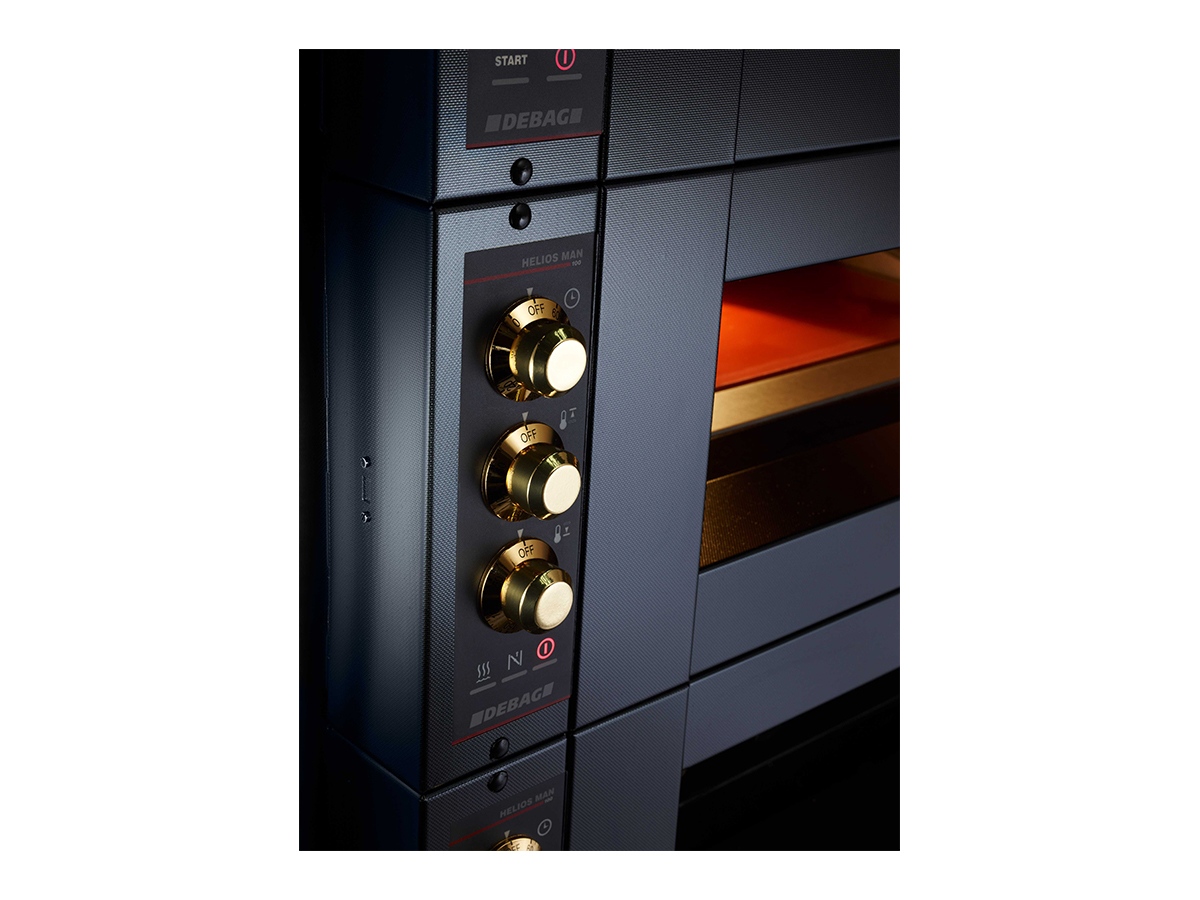 Technical data – for one deck – deck height 160 mm
MODEL
HELIOS 4060/1
HELIOS 8060/1
HELIOS 6080/1
HELIOS 80120/1
Inner dimension (W x D) [mm]
600 x 400 mm
600 x 800 mm
800 x 600 mm
1200 x 800 mm
Nr. of trays (dimension)
1 x (400 x 600 mm)
2 x (400 x 600 mm)
1 x (600 x 800 mm)
2 x (400 x 600 mm)
1 x (600 x 800 mm)
4 x (400 x 600 mm)
2 x (600 x 800 mm)
Inner deck height
160 mm
160 mm
160 mm
160 mm
Outer deck dimension (WxDxH)
920 x 1040 x 426 mm
160 mm: 920 x 1400 x 426 mm
160 mm: 1135 x 1220 x 426 mm
160 mm: 1530 x 1400 x 426 mm
Weight (net)
120 kg
155 kg
155 kg
240 kg
El. connection
4,2kW / 400V / 16A
 6,9 kW / 400V/ 16A
6,9 kW / 400V/ 16A
10,5 kW / 400V /16A
Water connection
R 3/4″
R 3/4″
R 3/4″
 R 3/4″
In black
Yes
Yes
Yes
 No
Technical data – for one deck – deck height 200 mm
MODEL
HELIOS 4060/1
HELIOS 8060/1
HELIOS 6080/1
HELIOS 80120/1
Inner dimension (W x D)
600 x 400 mm
600 x 800 mm
800 x 600 mm
1200 x 800 mm
Nr. of trays (dimension)
1 x (400 x 600 mm)
2 x (400 x 600 mm)
1 x (600 x 800 mm)
2 x (400 x 600 mm)
1 x (600 x 800 mm)
4 x (400 x 600 mm)
2 x (600 x 800 mm)
Inner deck height
200 mm
200 mm
200 mm
200 mm
Outer deck dimension (WxDxH)
920 x 1040 x 476 mm
920 x 1400 x 476 mm
1135 x 1220 x 476 mm
1530 x 1400 x 476 mm
Weight 160 / 200 mm (net)
125 kg
165 kg
165 kg
260 kg
El. connection
4,2kW / 400V / 16A
7,5 kW / 400V/ 16A
7,5 kW / 400V/ 16A
10,5 kW / 400V /16A
Water connection
R 3/4″
R 3/4″
R 3/4″
 R 3/4″
In black
Yes
Yes
Yes
 No