The electronic dough sheeting machine with flour duster for dough processing used for dough blocks and all types of dough spools up to a width of 650 mm for continued processing on pastry lines.
Rollfix 700 has been thoroughly reworked, with special emphasis on the new operating concept. In particular, the enlarged touch screen displays (10-inch), with high screen resolution and well-arranged icons for easier and more intuitive user guidance. The computer control with 18 different sheeting prrorams and 100 product memory locations (extendable) offers a new screenshot function and all the program adjustments can be easily stored on USB stick. The proces times can be reduced considerably by the innovative roller adjustment.
In addition to these cutting-edge technological improvements, all the Rollfix versions have one thing in common: they are very robustly designed and can withstand the toughest loads.
Features
Computer controlled high performance dough sheeting machine with automatic right-to-left-operation
Designed for the greatest capacity, highest level of stability, and the typical loads handled during continuous operation
Clearly laid out operator menu with simple to use menu prompts
For fast and perfect sheeting results with all types of dough up to a working width of 650 mm
Stability: robust stainless steel substructure with lockable castors
100 fully automated programs for different types of dough and their requirements, 18 reduction degrees and 8 freely programmable special reduction curves to enhance machine variability and the select treatment of the dough
Internal USB-and Ethernet-interface
Flour duster as standard equipment
Production of thin dough possible
Above standard hygiene and easy to clean
Certified safety

Dough sheeting machine Rollfix 700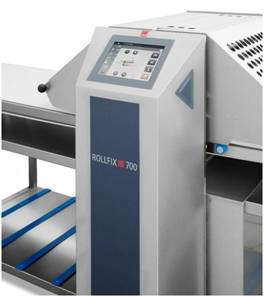 Description:
It is designed in every respect for multi-shift marathons or for unrelenting and continuous operation in industrial bakeries. It can handle dough blocks up to approx. 20 kg an reaches an hourly output of 200 (folding) or 450 kg (sheeting).
In order to maintain such enormous capacity over the long-term the machine is supplied with resistant and robust technology for extended service life. The machines are equipped with toothed belts which operate extremely quiet and with double sided bearings for the roller gap adjustment.
The interior is completely reinforced and made of stainless steel. The solid substructure, too, is made of stainless steel. For its latest release version, the software has undergone extensive field-testing and optimization. A whole series of automated steps make this software a welcome, intelligent asset in any bakery.
Not only the speed of the dough sheet is reduced if you press the anti-jam pushbutton, but the machine also "remembers" these manual interventions and automatically integrates them into the program sequence. During flour dusting the machine behaves in the same way. If you are processing the dough for the first time in "Learning Mode" you are free to determine when the automatic flour duster should be activated. Even this information is automatically integrated into the program.
Hence: if you require high performance, robust design, and convenience during operation, then the ROLLFIX 700 is the machine for you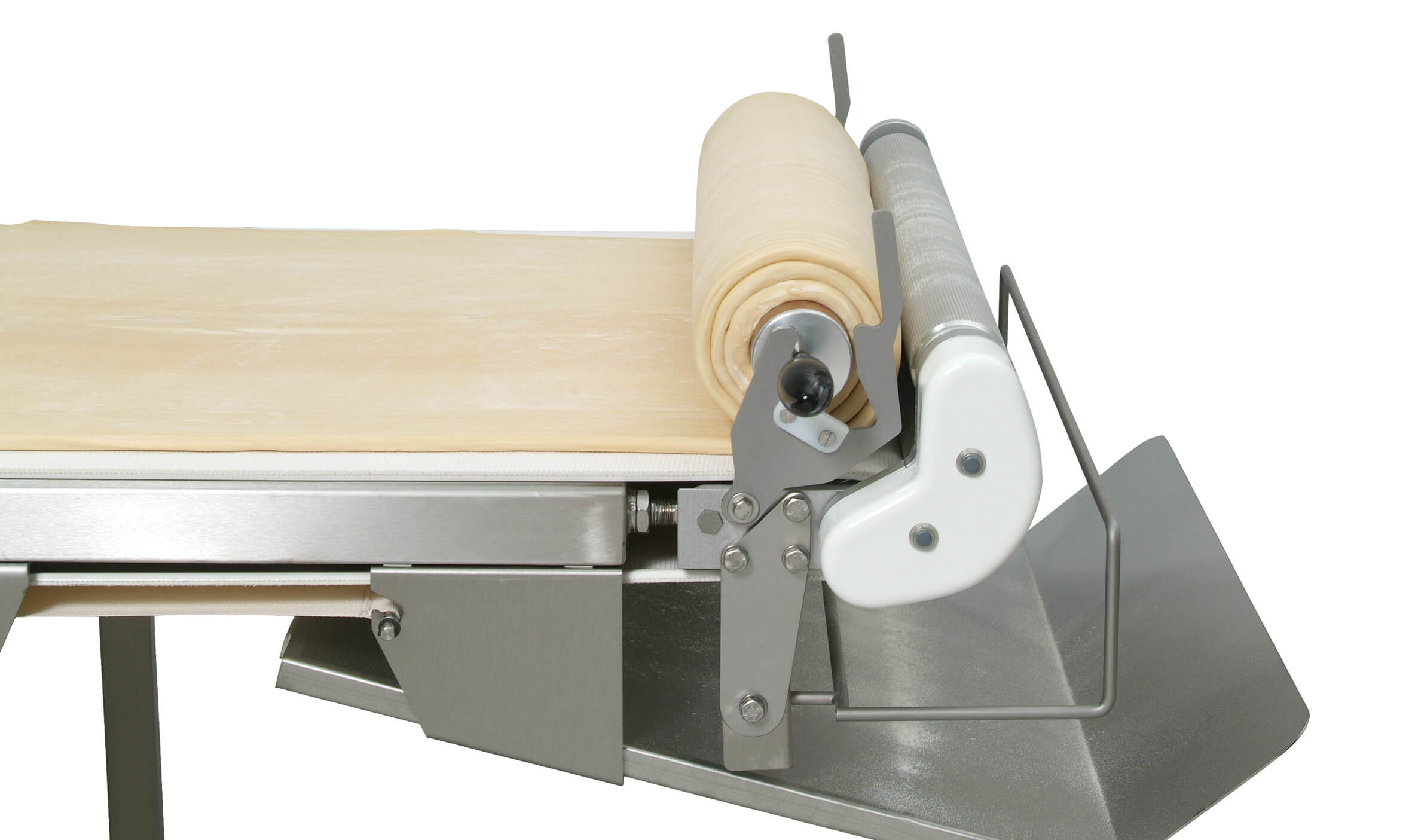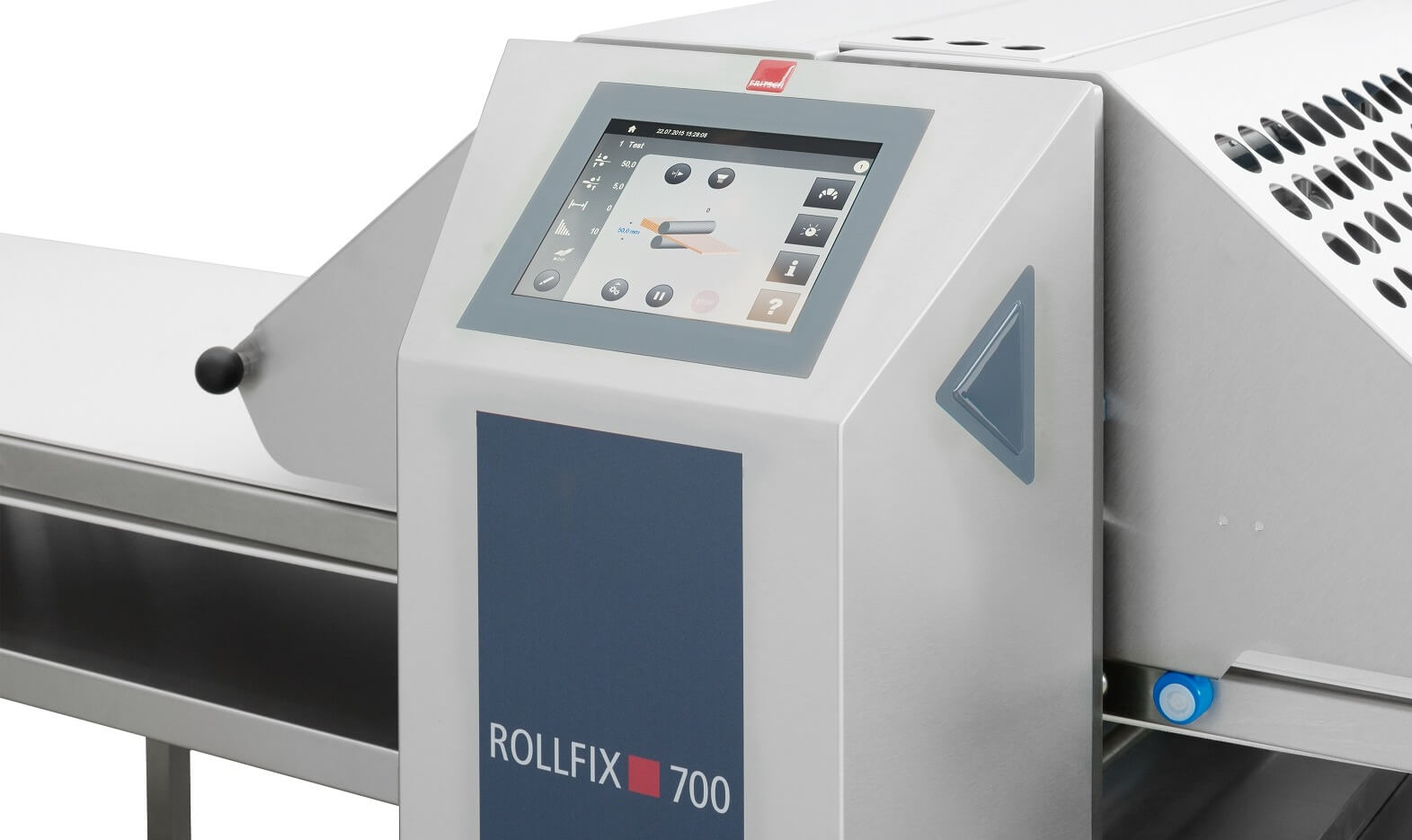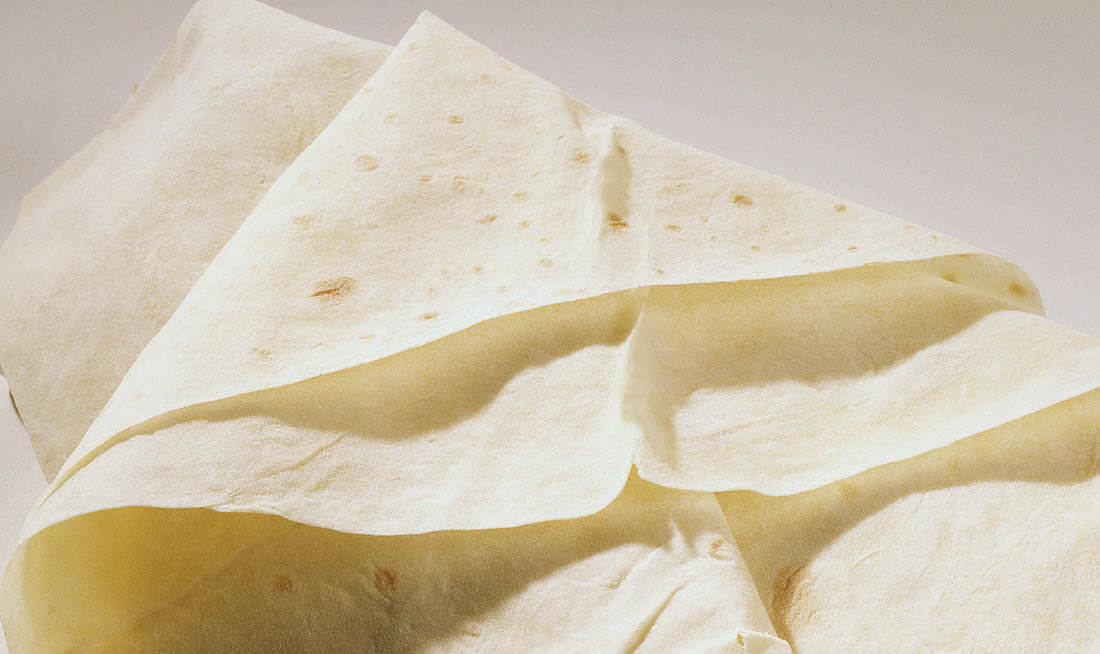 Dough block processing up to approx. 20 kg
Sheeting speed 56 m/min
Working width 650 mm
Roller clearance 0.3 – 50 mm
Table lengths 1.625 m