Electrolux Professional Thermaline - braising pans
Ideal to prepare vegetables, fish, meats and stews.
Even temperature distribution, reduction of cooking time.
Working temperature: 25 – 250°C
Gastronorm pan size (GN) compliant.
Range:
Electric, gas power
Stationary, tilting models
Pressure braising pans
Advantages:
2 in 1 cooking surface, divided into independent heating zones (electric models only) for better flexibility and reduced energy consumption. Braise and steam at the same time, thanks to the possibility of using GN containers on the top, to steam vegetables, while braising below.
Pressure cooking (hermetically closed environment, under saturated steam, under pressure of 0,45 bar (108°C), ensures a dramatic reduction of cooking time (up to 70% compared to traditional cooking), providing high food quality, in other words: better vitamins, mineral and essential nutrients retention, as well as a more appealing presentation with vividly coloured food presentation. Reducing energy consumption (up to 80% compared to traditional cooking).
Automatic pressure reduction with condensation water injection at the end of the cooking process. Improves safety as there are no risk of burning from steam evacuation and no lid cooling is necessary.
Tilting versions: Tilting axis reaches more than 90°, and has high frontal position, for pouring liquids in containers and for cleaning.
Electronic control panel regulates the tilting motor, so the food does not spill over.
Power Block heating system ensures precise temperature control as well as even temperature distribution for more excellent cooking results.
Easy to clean: tilting pan, rounded internal corners, smooth surface
Touch screen control: storing of 1000 cooking recipes, step-by-step cooking process with programming of up to 15 cooking phases.
Construction: 3 mm AISI 316, 15 mm mild steel, 18 mm compound bottom.
Double wall insulation, saves energy  and keeps heat within the unit, energy saving, pleasant working conditions
Block heating elements.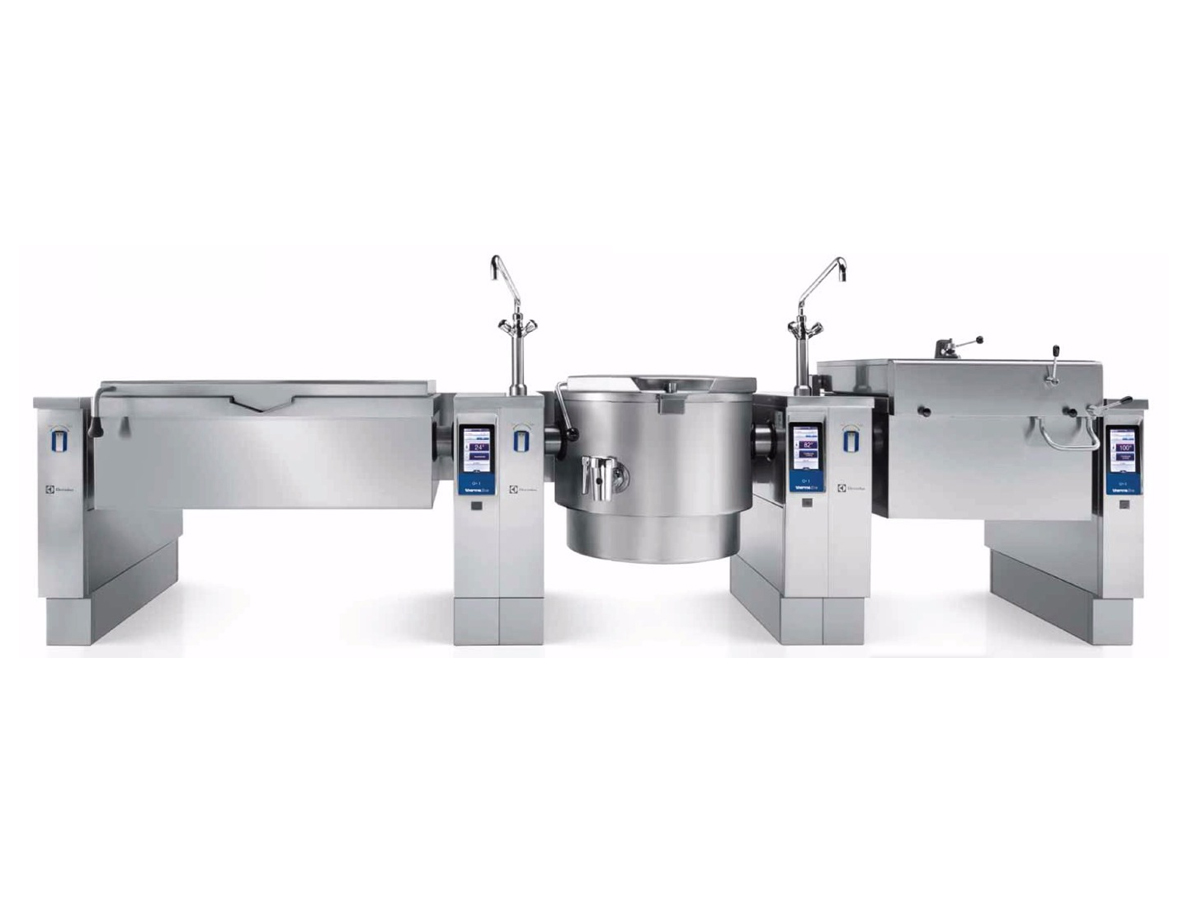 Electrolux Professional Thermaline - braising pans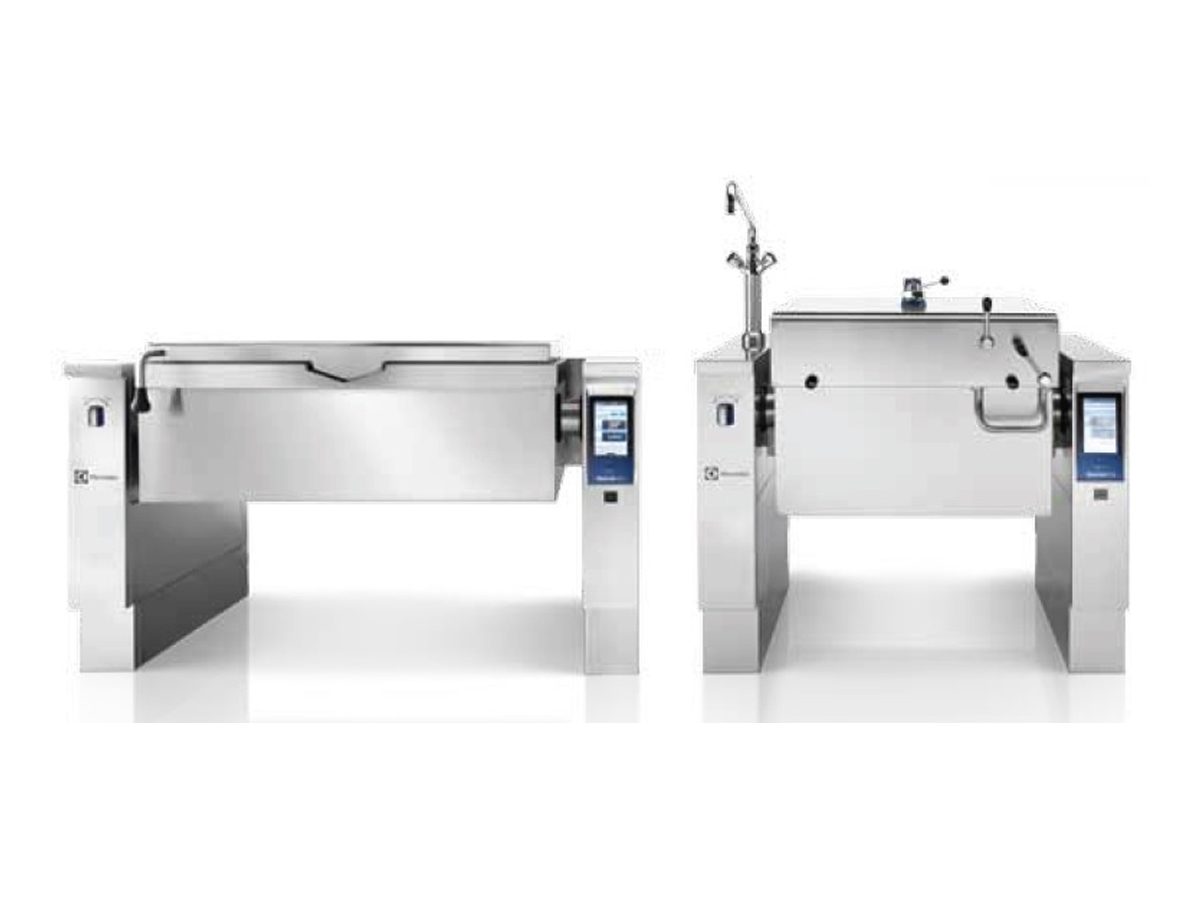 Technical data – Stationary models:
| | | | | |
| --- | --- | --- | --- | --- |
| Capacity | 80 L | 110 L | 125 L | 170 L |
| Temperature min/max | 25 – 250°C | 25 – 250°C | 25 – 250°C | 25 – 250°C |
| Cooking surface | 680 x 550 mm | 1080 x 550 mm | 680 x 550 mm | 1080 x 550 mm |
| Cooking well height | 300 mm | 300 mm | 300 mm | 300 mm |
| El. power | 15,5 kW | 15,5 kW | 20,6 kW | 20,6 kW |
Technical data – Tilting models:
| | | | | | |
| --- | --- | --- | --- | --- | --- |
|  Capacity | 60 L | 80 L * | 90 L | 100 L | 170 L |
| Temperature min/max | 25 – 250°C | 25 – 250°C | 25 – 250°C | 25 – 250°C | 25 – 250°C |
| Cooking surface | 620 x 490 mm | 800 x 600 mm | 620 x 490 mm | 990 x 490 mm | 990 x 490 mm |
| Cooking surface (pressure model) | 680 x 558 mm | – | 680 x 558 mm | 1050 x 558 mm | 1050 x 558 mm |
| Cooking well height | 158 mm | 200 mm | 237 mm | 169 mm | 287 mm |
| Cooking well height** (pressure model) | 196 mm | – | 274 mm | 209 mm | 326 mm |
| El. power | 25,5 kW | 20,6 kW | 15,5 kW | 20,6 kW | 20,6 W |
| Gas power | 16 kW | – | 20 kW | 26 kW | 29 kW |
| Gas power (pressure model) | – | – | 18 kW | – | 29 kW |
*not available for pressure braising pan
**up to food outlet