Electrolux Professional Thermaline boiling pans
Working temperature: 25 – 110°C
Range:
Stationary, tilting models
Electric, gas power
Round, rectangular
Pressure boiling pans
Advantages:
Quick indirect heating system: closed double wall heating system (double jacketed area) with water and 1,5 bar pressure, requires little maintenance and no additional soft water connection.
7 cm cold rim zone, on the upper boiler edge. Improved safety for operators, as risk of burning is eliminated.
100% boiler load; usage capacity plus cold rim zone.
Long lasting appliances, constructed with a single deep drawn piece, boiler made of molybdenum steel AISI 316L (DIN 1.14435), are resistant to food acids and corrosion.
Useful pan shape (rectangular or round) ensures ideal heat distribution as well as an easy stirring process, and the possibility to prepare small food quantities.
Tilting versions: tilting axis reaches more than 90°, and has high frontal position, for pouring liquids in containers and for cleaning.
Electronic control panel regulates the tilting motor, so the food does not spill over.
Pressure cooking (hermetically closed environment, under saturated steam, under pressure of 0,45 bar (108°C), ensures a dramatic reduction of cooking time (up to 70 % compared to traditional cooking ), providing high food quality, in other words: better vitamins, mineral and essential nutrients retention, as well as a more appealing presentation with vividly coloured food presentation. Reducing energy consumption (up to 80%, compared to traditional cooking).
3-stage safety lock, increases security, as there is no risk from opening the lid when unit is under pressure.
A self-deaerating valve for stem removal during cooking.
Automatic pressure reduction with condensation water injection at the end of the cooking process. Improves safety, as there are no risk of burning from steam evacuation and no lid cooling is necessary.
Double wall insulation, saves energy and keeps heat within the unit, energy saving, pleasant working conditions.
Touch screen control: storing  of 1000 cooking recipes, step-by-step cooking process with programming of up to 15 cooking phases
Option: stirrer offering the possibility of 3 stirring cycles: one direction, two directions with 4 second pause, two directions with 16 second pause.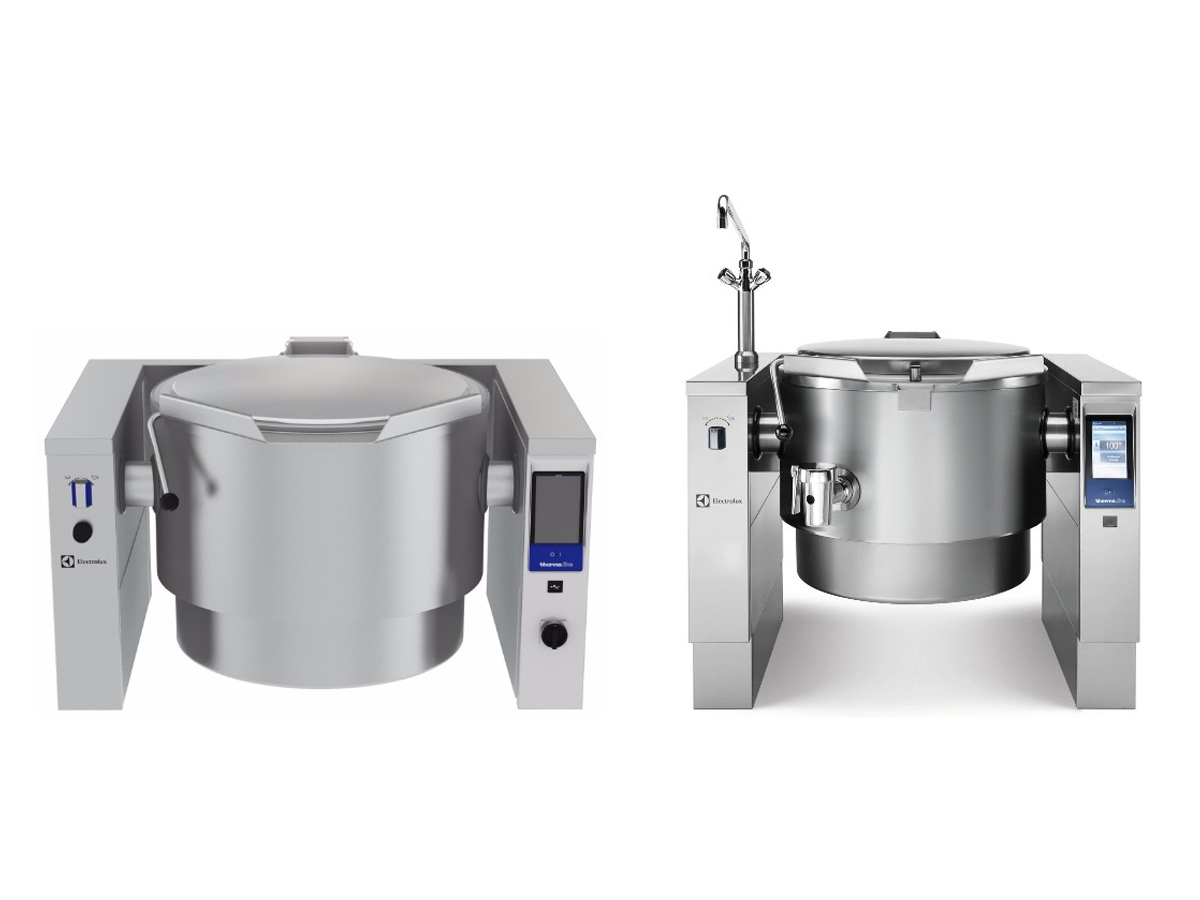 Electrolux Professional Thermaline boiling pans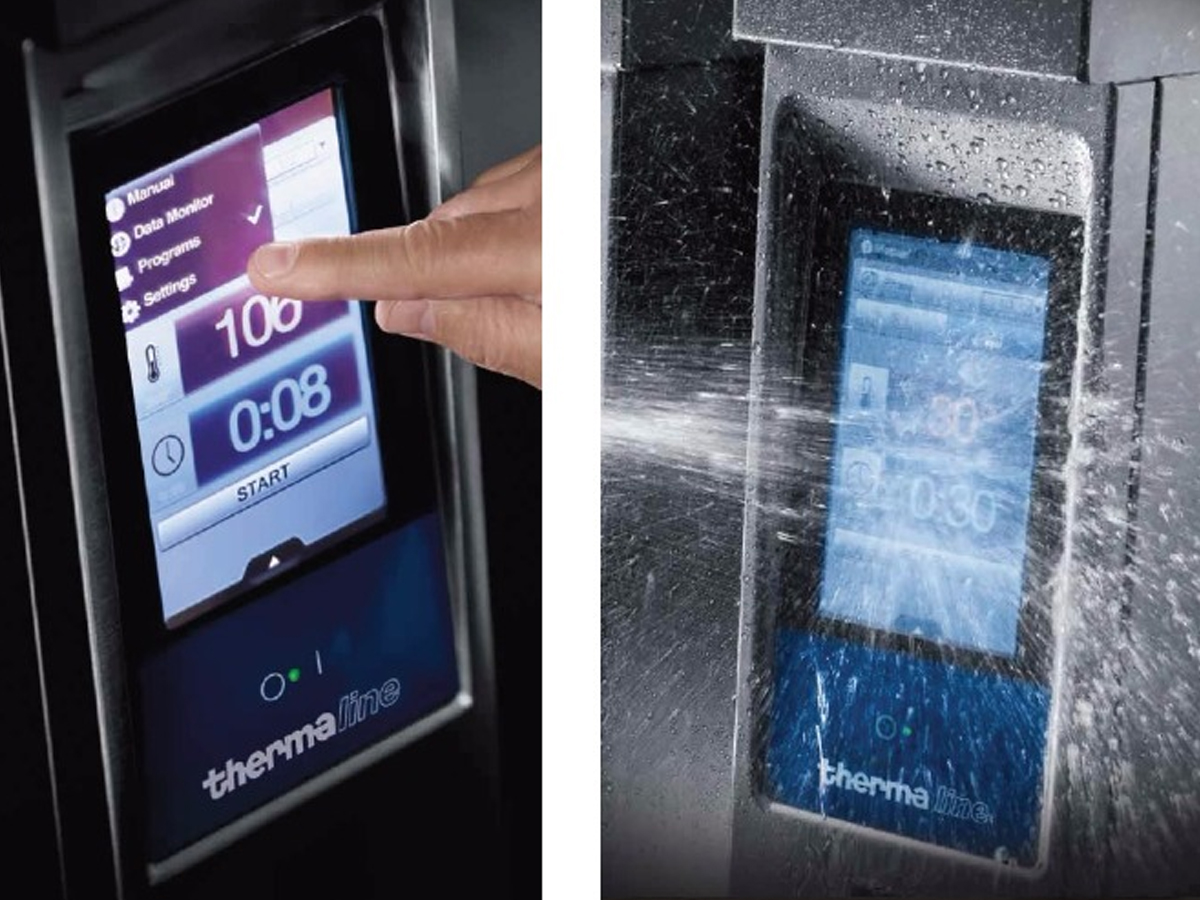 Technical data – stationary RECTANGULAR MODELS:
| | | | | |
| --- | --- | --- | --- | --- |
| Capacity | 80 L * | 200 L | 300 L | 400 L |
| Temperature min/max | 25 – 110°C | 25 – 110°C | 25 – 110°C | 25 – 110°C |
| Cooking surface | 380 x 550 mm | 680 x 550 mm | 1080 x 550 mm | 1380 x 550 mm |
| Cooking well height** | 460 mm | 568 mm | 568 mm | 568 mm |
| El. power | 18,2 kW | 30,2 kW | 36,2 kW | 48,2 kW |
| El. power (steam model) | 0,3 kW | 0,3 kW | 0,3 kW | 0,3 kW |
*not available for pressure boiling pan
**up to food outlet
Technical data – stationary ROUND MODELS:
| | | | |
| --- | --- | --- | --- |
| Capacity | 60 L | 100 L | 150 L |
| Temperature min/max | 25 – 110°C | 25 – 110°C | 25 – 110°C |
| El. power | 12,2 kW | 18,2 kW | 24,2 kW |
| El. power (steam, no stirrer) | 0,3 kW | 0,3 kW | 0,3 kW |
| El. power (steam, with stirrer) | 0,4 kW | 0,6 kW | 0,6 kW |
Technical data – TILTING MODELS (round):
| | | | | | | | |
| --- | --- | --- | --- | --- | --- | --- | --- |
| Capacity | 60 L | 100 L | 150 L | 200 L | 300 L | 400 L | 500 L |
| Temperature min/max | 25 – 110°C | 25 – 110°C | 25 – 110°C | 25 – 110°C | 25 – 110°C | 25 – 110°C | 25 – 110°C |
| El. power (no stirrer) | 12,2 kW | 18,2 kW | 24,2 kW | 30,2 kW | 36,2 kW | 48,2 kW | 48,2 kW |
| El. power (with stirrer) | 12,5 kW | 18,5 kW | 24,6 kW | 30,6 kW | 36,6 kW | 48,6 kW | 48,6 kW |
| El. power (steam, no stirrer) | 0,2 kW | 0,2 kW | 0,2 kW | 0,2 kW | 0,2 kW | 0,2 kW | 0,2 kW |
| El. mpower (steam, with stirrer) | 0,5 kW | 0,6 kW | 0,6 kW | 0,6 kW | 0,6 kW | 0,6 kW | 0,6 kW |