Enrober and moulding machine ChocoMa E220
Enrober and moulding machine ChocoMa E220.
Features:
Top coating, bottom coating or complete enrobing – for pralines, bars, biscuits, cakes and pastries
Tempering within the machine
Double chocolate curtains and variable speed control
Variable air pressure and direction control on blower
Construction in stainless steel and food approved materials
Supplied with a 1 meter paper take-off table as standard
How it works
products are placed on the separate infeed table.
he wire mesh belt carries the products through two chocolate curtains and/or bottom coating reservoir.
Once the products are double coated, they pass under the blower outlet to insure that the appropriate amount of chocolate is left on the product.
Any "chocolate-skirt" is minimized by means of the vibrating mechanism
Products pass over a detailer shaft for perfect finishing before they continue onto the paper take-off table.
Chocolate temperature is monitered with the termostat trough the whole process.
Technical data:
Enrober dimensions:
–          Lenght: 910 mm
–          Width: 630 mm
–          Height: 700 mm
Enrobing section:
–          Width: 220 mm
Take-off table:
–          Lenght: 1, 2 ali 3 m
–          Width: 260 mm
Volume: 20 l
Optional:
Melting cabinet or table on where the basic enrober is placed
Mould filling module and vibrating table
Longer paper take-off tables
Cooling tunnels
Top heaters
Wire belt extension for truffle balls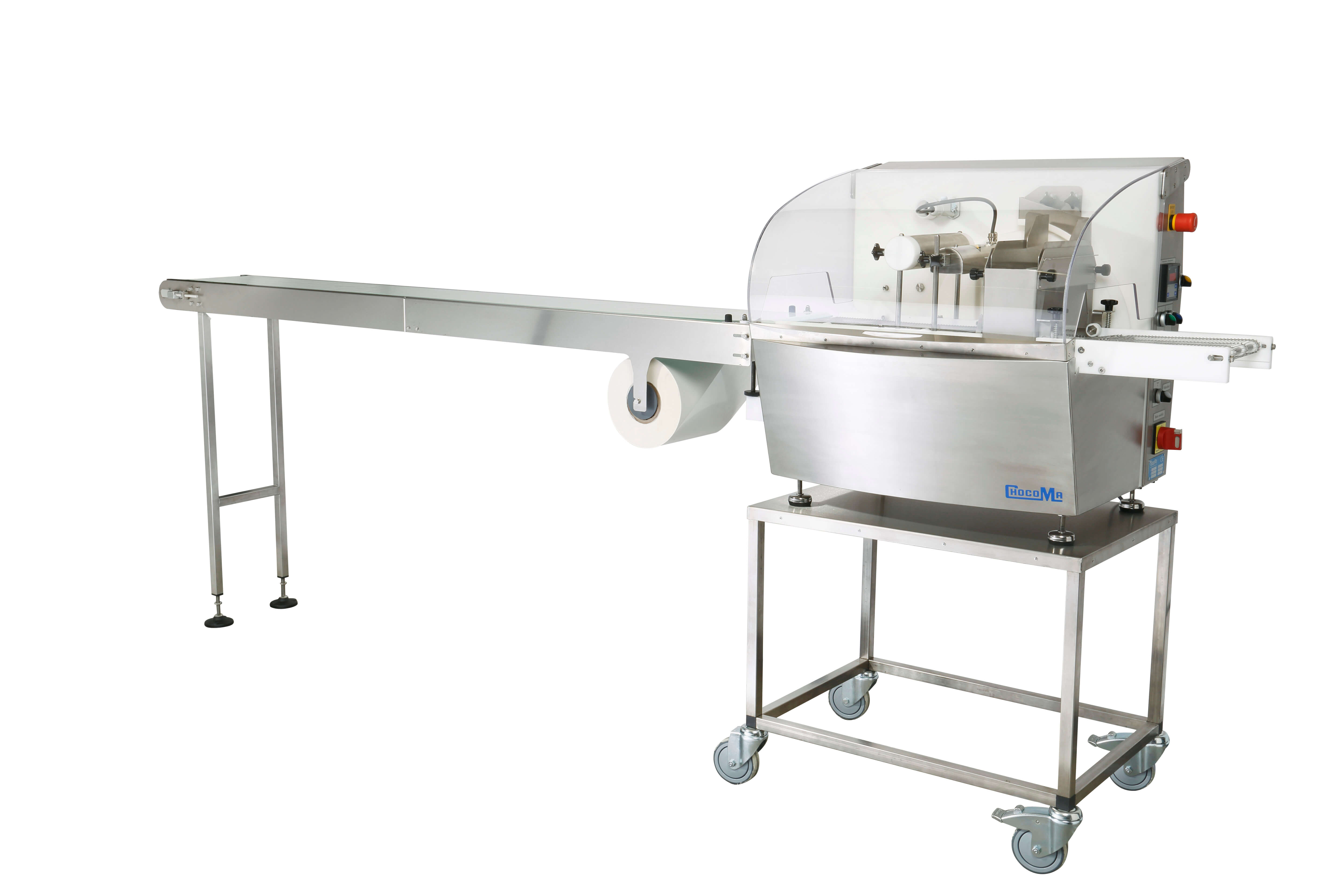 Enrober and moulding machine ChocoMa E220