BAKON INLINE ultrasonic slicer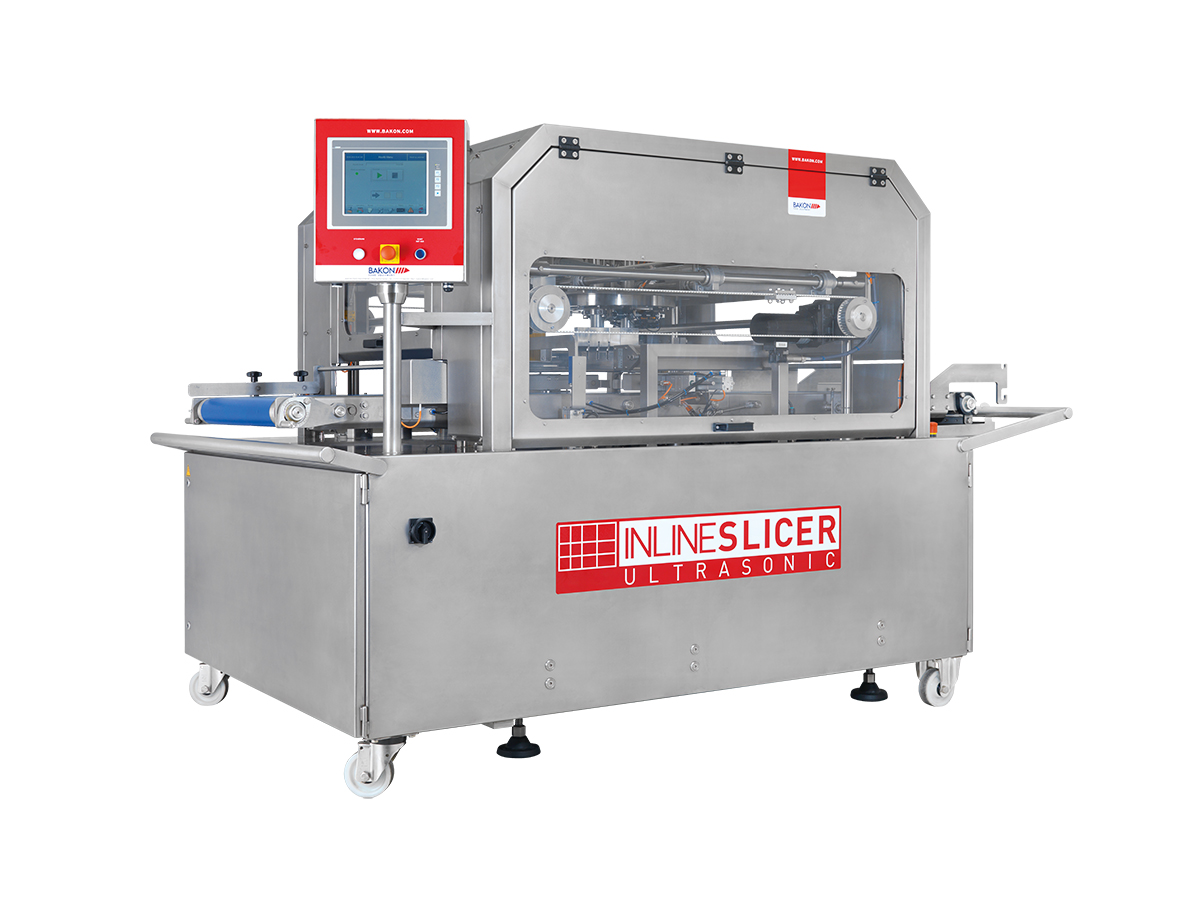 BAKON INLINE ultrasonic slicer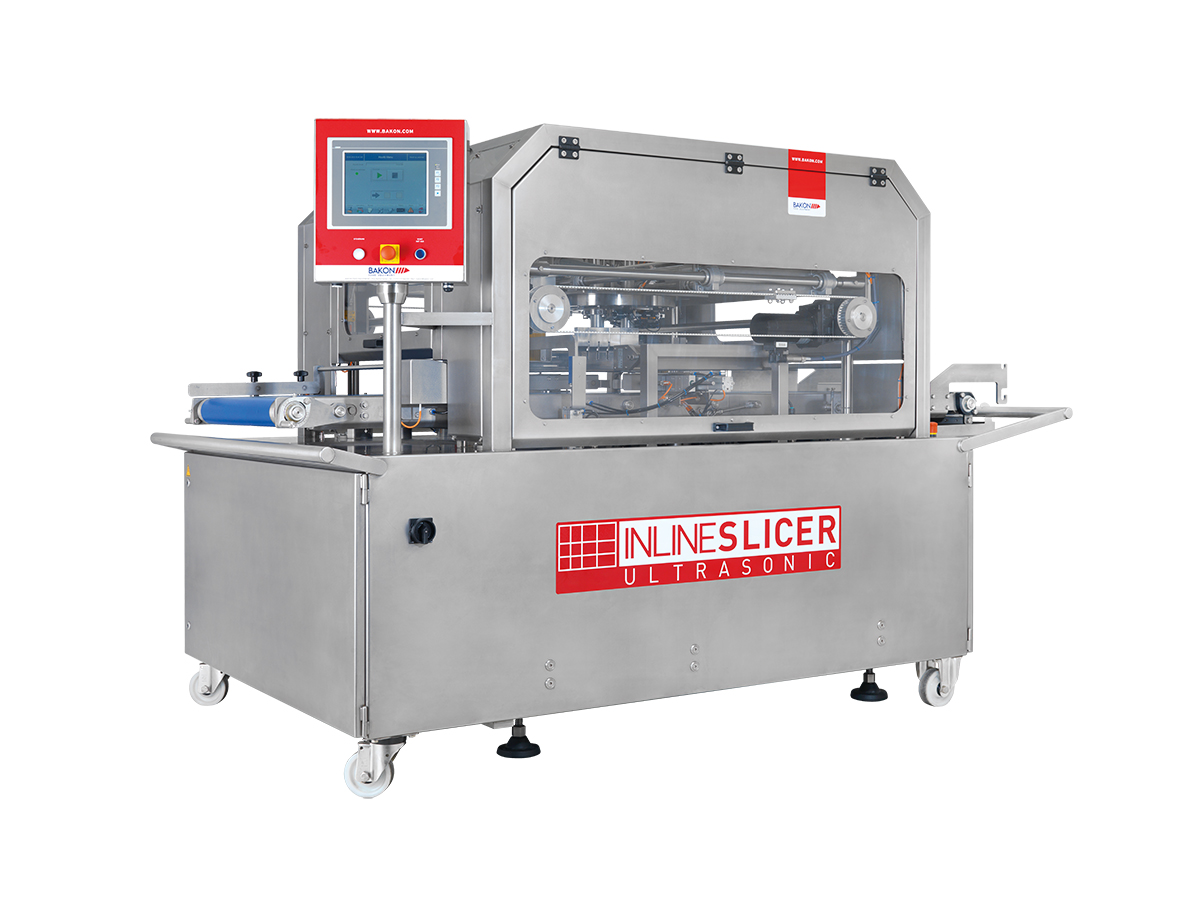 The INLINE ULTRASONIC SLICER is a high capacity cutting machine for precise cutting and slicing of round and rectangular products.
BAKON ultrasonic cutting machines excel, due to their robustness, high quality materials, reliability and accuracy in cutting. The machines are fast and precise and therefore achieve maximum results because of the unique servo technology.
Advanced software allows you to set or change product parameters and cutting patterns easily through the icons on the full color touch screen.
Key features
For bakings trays in sizes from 100 x 600 up to 800 x 600 mm
Multiple blades for higher production capacity
Modem in the machine for remote service
Multiple password levels to assign different access levels
For safety reasons equipped with a protection hood (Lexan glass) with hinged doors with pneumatic shock absobers
Cleaning system with UV-C-light for fast and thorough cleaning and disinfection
Full colour LCD touch screen
Stand alone machine
Optional
Cleaning unit with UV-C-light for complete disinfection – First the blades are cleaned on both sides with water in a fully waterproof sealed station; next a scraper removes any residues and then dries the blade. Thorough disinfection takes place in two other stations with UV-C light. The complete cycle requires 20 seconds and can be done after each product, after 5 or 10 products or at the end.
Servomatic rotation device – for round products
A quick-fit system to change blades for efficient cutting in smaller or larger trays
No need to select products because of smart vision technology with automatic product recognition
Personal key cards for safe and fast login (to prevent unwanted login with other codes)
Wide choice of cutting blades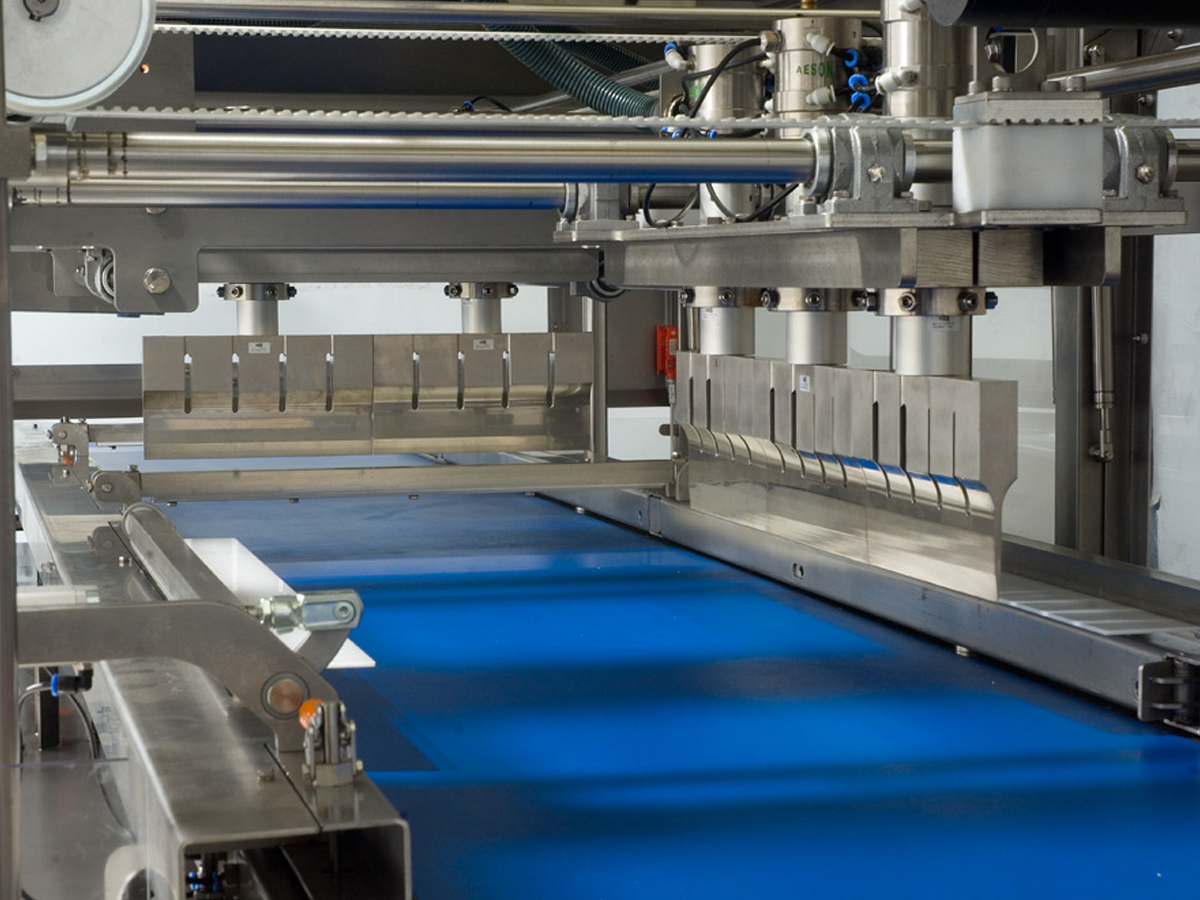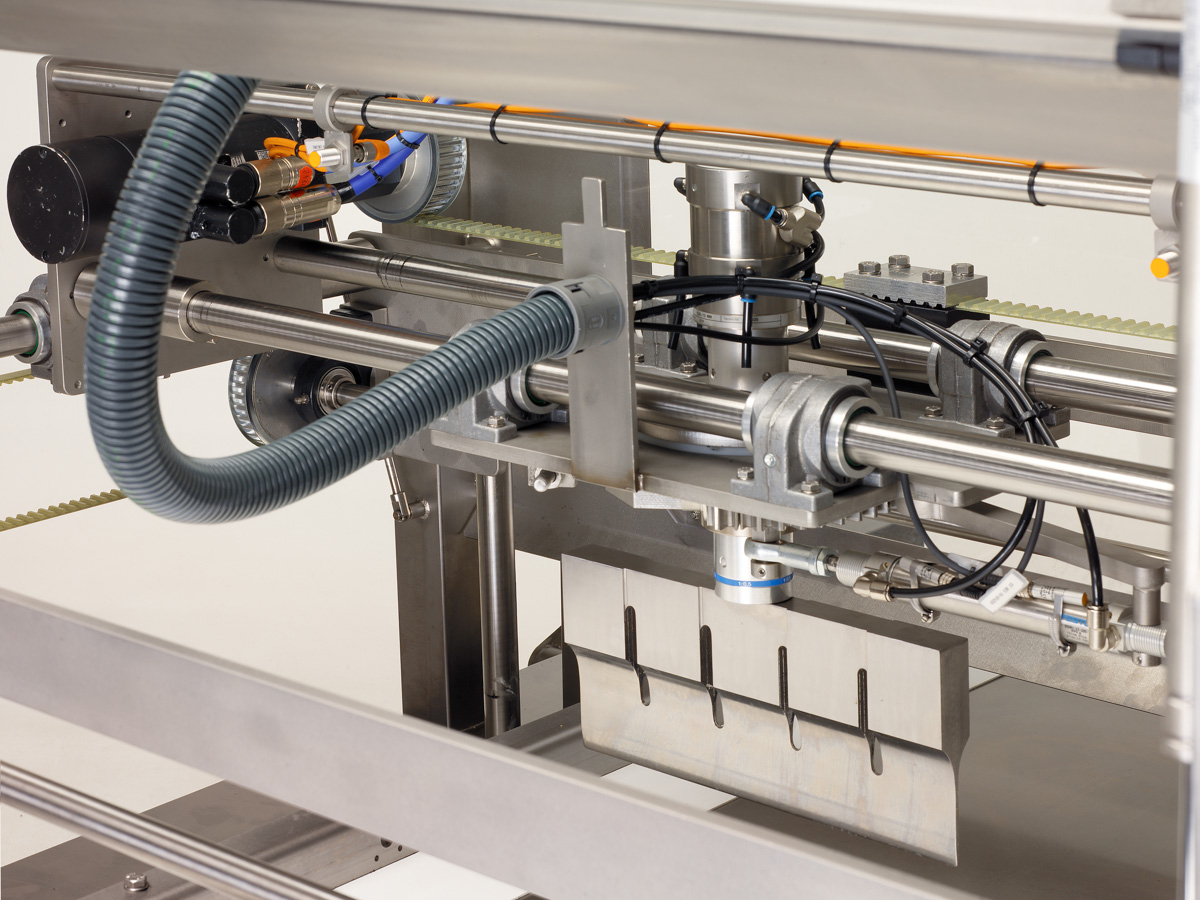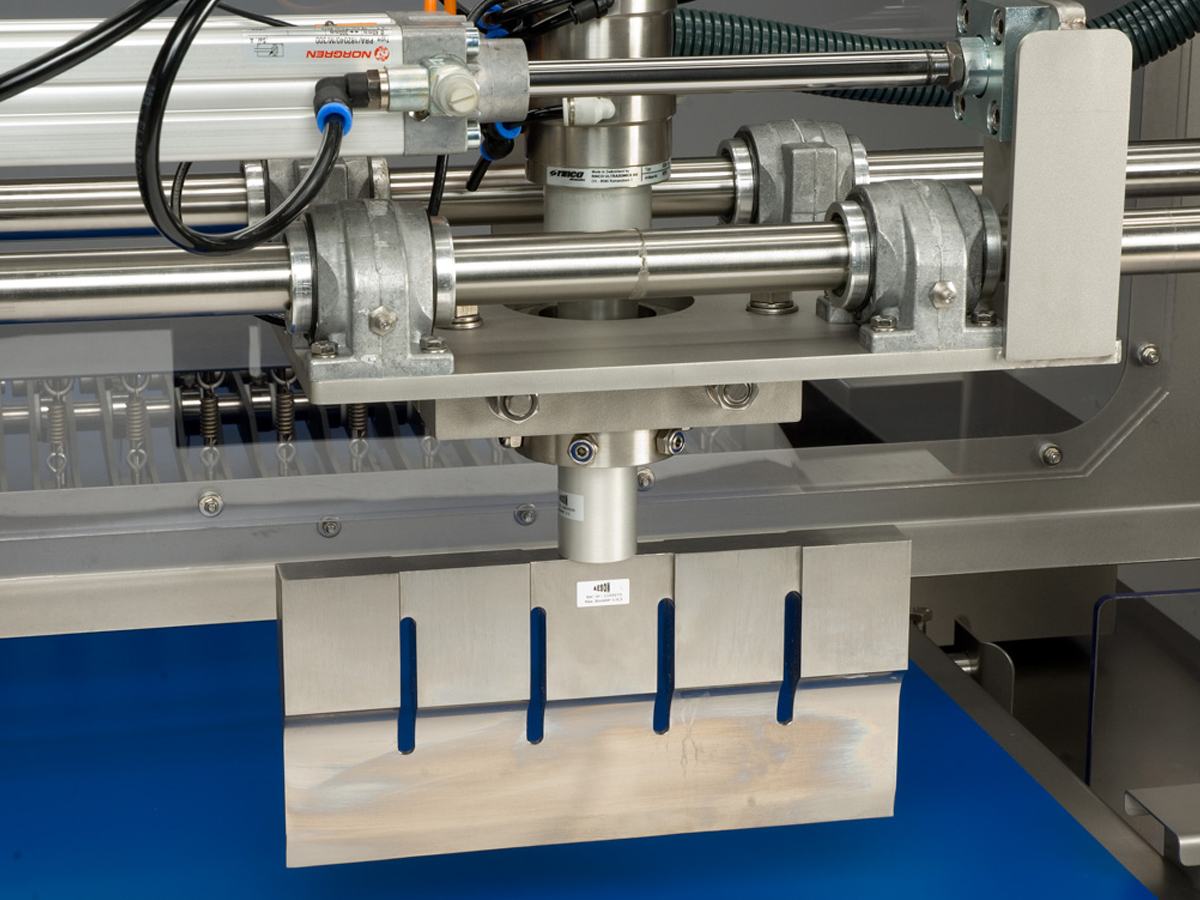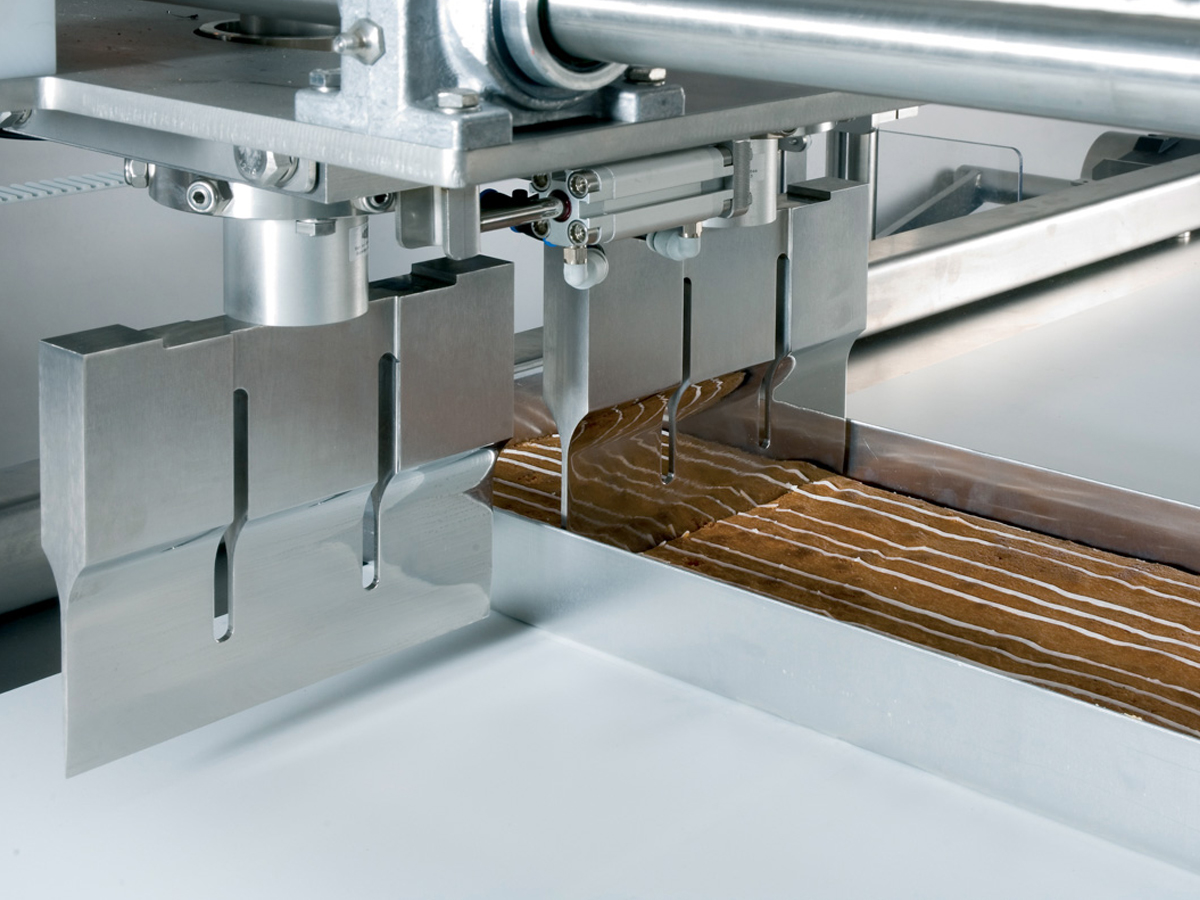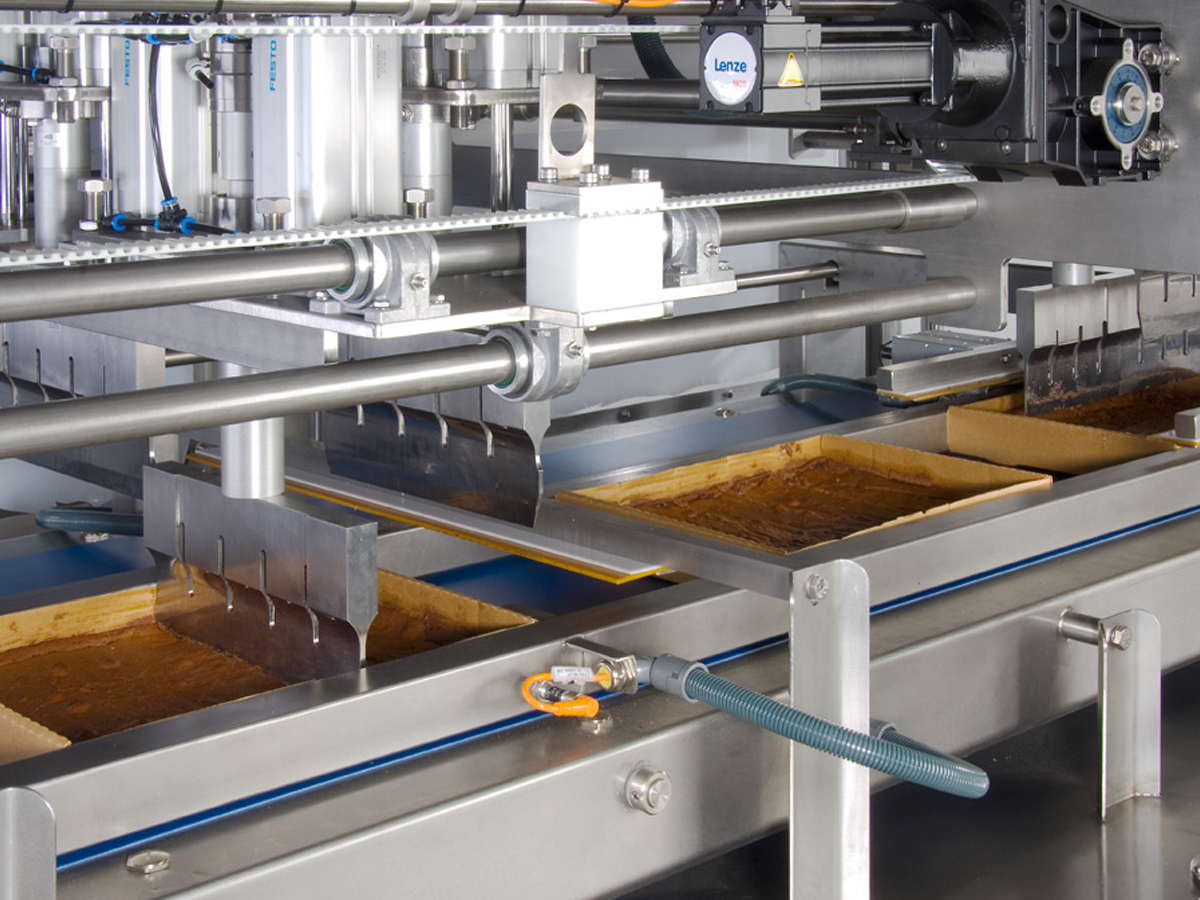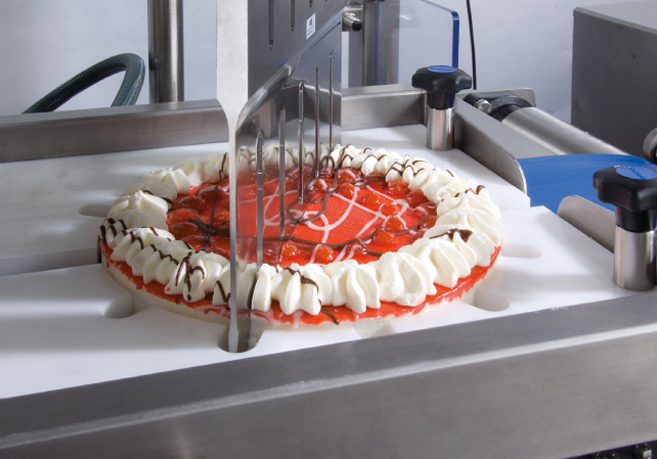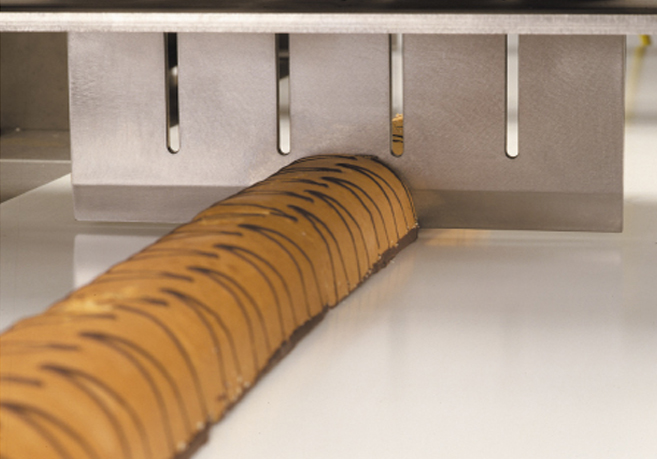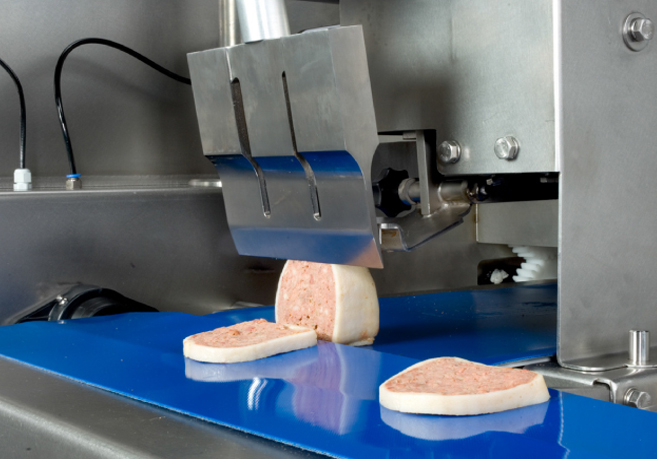 Operation
Products will be placed manually or by means of a conveyor at the input side of the machine. The ultrasonic cutting machine will start automatically or with the start button and guide the products to the correct cutting position underneath the ultrasonic cutting blade(s).
Precise and accurate slicing is accomplished by the ultrasonic blades which are mounted on a servo driven bridge over the conveyor belt. The use of the servo driven bridge makes it possible to bring the blades in any desired position and allow cutting in various shapes and sizes.
Programming and setting of the different parameters (number of portions, cutting speed, size trim edge, etc.) is easily done by using the full colour LCD touch screen. The overall production capacity is variable and can also be set on the touch screen.
| | |
| --- | --- |
| MODEL | BAKON INLINE |
| Working height | 950 mm |
| Blade | 315 mm |
| Voltage | 3×400 VAC+PE, 50 Hz |
| Power | 6 kW |
| Air consumption | +/- 50 L/ min at 6 bar |
| Capacity | based on size and shape of products |
| Tray size | up to 800 x 600 mm with a 20 sec cleaning cycle (UV-C light) |