The EASY BELT baking tray cleaning machine has been specially developed for artisan bakeries.
The advantage of the machine is that it can be used to clean smooth and corrugated baking trays, as well as a wide range of baking moulds. Furthermore, the effortless cleaning of baking trays with 2, 3 and 4 edges up to 20 mm high is also possible.
It is best suited for removing flour dust, sesame seeds, poppy seeds and lightly baked-on dough remains from the baking tray.
Cleaning occurs via the proven belt brushes, which rotate at a right angle to the input direction. The brushes can adjust optimally to the baking tray's contours, and the debris is transported to the side and away from the baking tray. In order to clean the baking tray this is guided under the machine by hand and subsequently removed again.
For optimum cleaning of perforated trays it is optionally possible to install a perforation brush into the frame.
The EASY BELT can be individually configured for each bakery through the use of various brush hardness and heights.
The machine is positioned either on an existing work table or on a frame that is optionally available from us.
Features:
Small and easy to handle
Latest cleaning technology
Developed mainly with moulded baking trays in mind
For coated and uncoated trays
Easy to use, low-maintenance and failsafe
Just right for baker's shop and small business use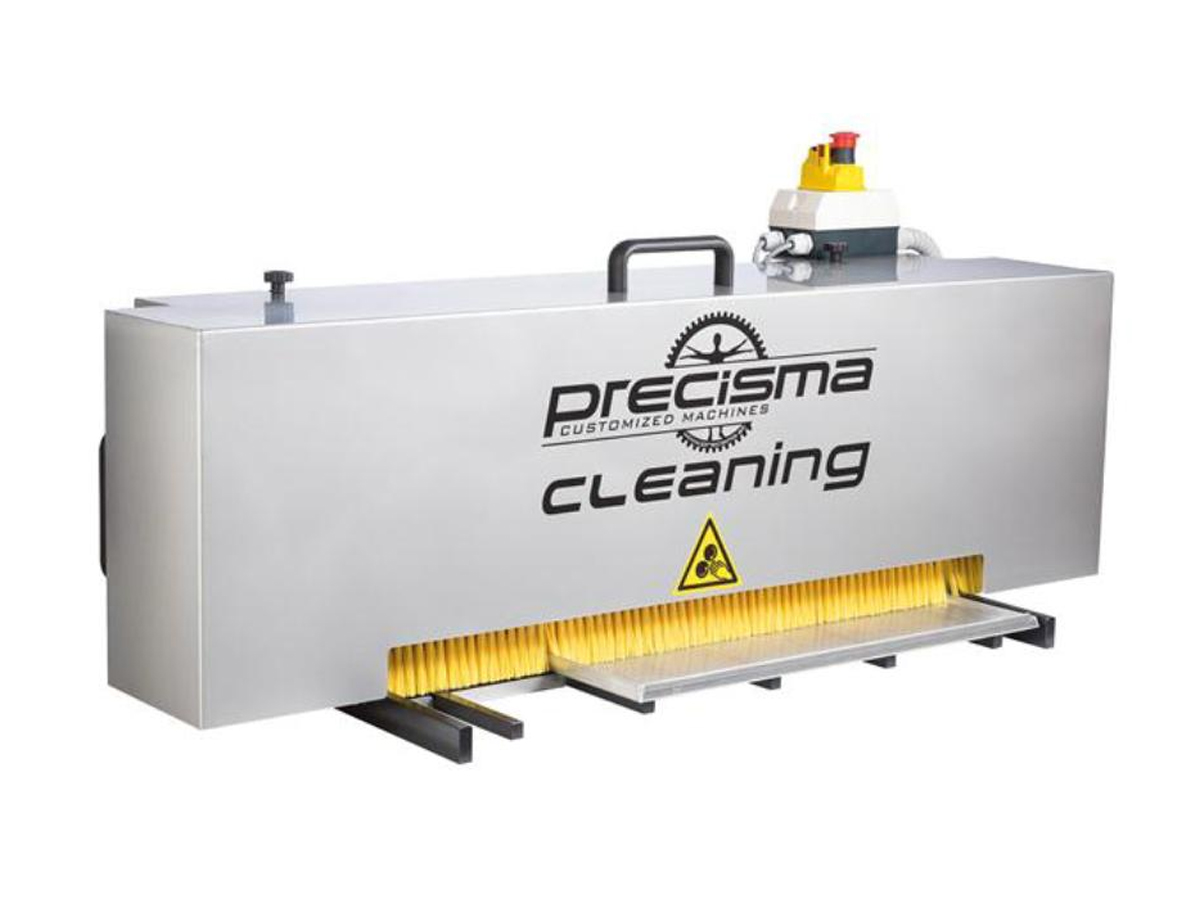 Precisma Easy Belt
Use:
Smooth trays
Baguette trays with and without edges
Burger trays, 3- and 4-edge trays
For perforated and imperforated trays
With silicon or Teflon, as well as uncoated
Standard width 800 mm
Efficent cleaning technology:
Innovative belt brushes closely adhere to the tray contours
Long flexible brushes clean recesses and indentations particularly thoroughly
Coated trays are not susceptible to damage
Optional accessories:
Frame on feet
Mobile frame on wheels
Perforation brush for integration in the frame
Dust extractor
| | |
| --- | --- |
| MODEL | EASY BELT |
| Dimension (LxDxH) | 1200 x 500 x 450 mm |
| Cleaning width | 800 mm |
| Capacity | up to 200 trays / hour |
| Weight (appx.) | 75 kg |
| Power | 1 kW |
| Nr. of brushes | 3 units |
| El. connection | 400 V 50Hz 3 Ph |