The dough pieces are dumped into the fat using dumping trays without felt and the steam lid closes when a button is activated and provides a larger volume for the dough pieces.
Ten frying programs, each with four potential individual frying times, provide the automated frying process. An audible signal sounds just before the end of frying. The frying or turning basket is removed from the fat automatically when the frying time has ended and remains suspended above the fat pan to allow any excess fat to drip back into the fat pan.
The W-tray is rolled under the frying basket from the drain trolley on the side. The finished fried pastries are dumped onto the W-tray and pulled back onto the drain at the side.
Features:
Automated, tightly closing steam lid for a large volume
Digital heater for precise temperature control and minimum fluctuations for lower usage of fat
Cyclical heating to prevent any burning of the fat
Lockable castors and movable castors
Alarm standard
10 frying programs with up to 4 individual frying times
Manual and automated operation possible
Turning in the fat for a uniform dough piece temperature and a reduced usage of fat
Automatic removal of the basket from the fat at the end of the frying cycle
Fat monitoring unit to monitor the running time of the frying fat
Comes in 3 sizes: 36, 48, 60
Technical data:
Lenght: 1610 mm (s.36); 2040 mm (s.48); 2440 mm (s.60)
Width: 990 mm
Height: 1050 mm; open lid: 1900 mm
Net weight: cca 125 kg (s.36); 135 kg (s.48); 145 kg (s.60)
Power supply: 230 / 400 V – 50 Hz
Input power: 6,0 kW (s.36); 7,5 kW (s.48); 9,0 kW (s.60)
Fat capacity: cca. 34 l / 31 kg (s.36); 42 l / 39 kg (s.48); 49 l / 46 kg (s.60)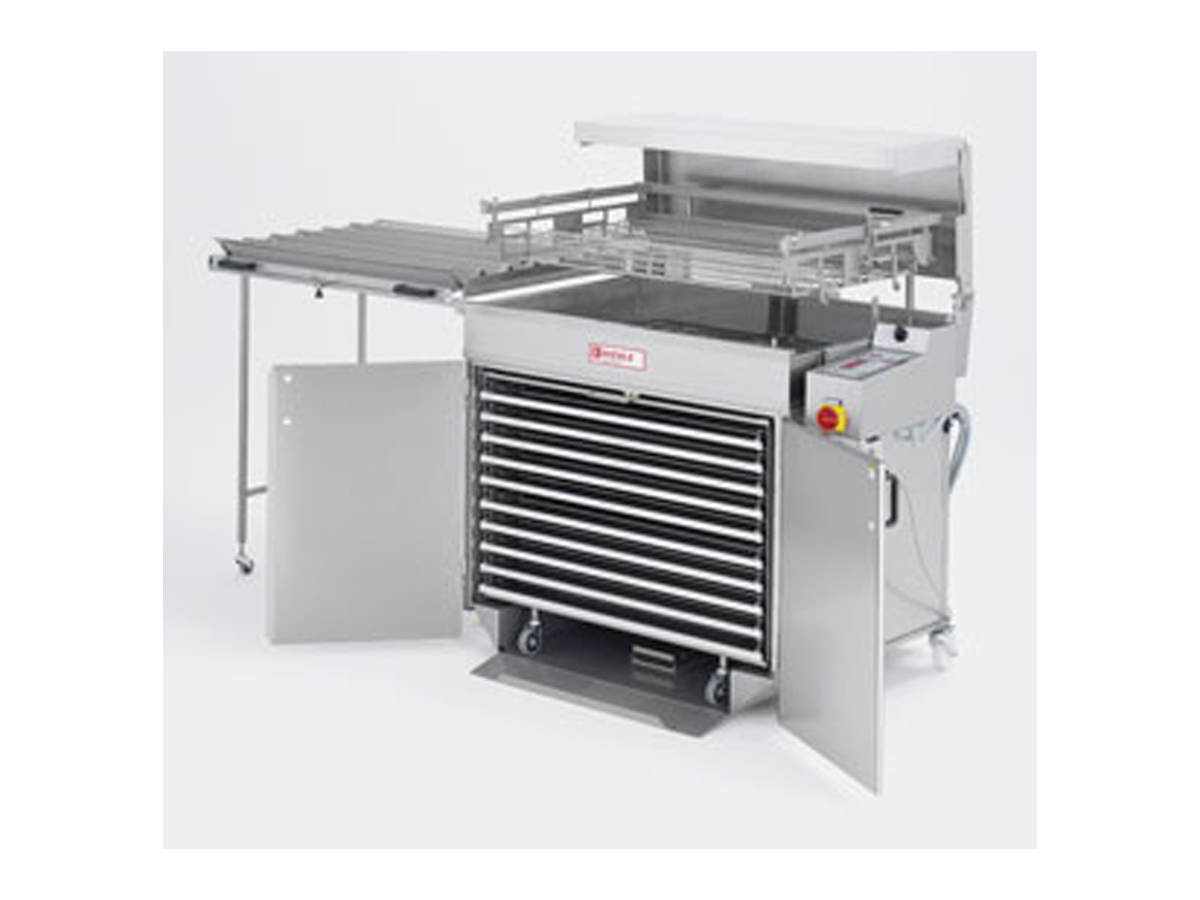 Riehle LINIE 2000 fryer