Water chiller DELTA DKS 150/250
Delta DKS works without a pressure pump and can be combined with every water mixing and dosing appliance.
Compact construction with stainless steel cabinet – suitable for wall mounting or installation in a neighbouring room.
The ice layer which accumulates during non-operating periods provides a great reserve of energy and ensures top cooling performance.
Cooling capacity 150 liters/hour (from +15°C to +2/3°C)
Sealed flow system
No pressure pump required
Functions at normal mains pressure
Compact and robust
Top cooling performance
Low energy requirements
Can be combined with all mixing and dosing appliances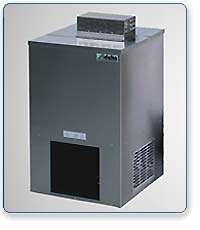 Water chiller DELTA DKS 150/250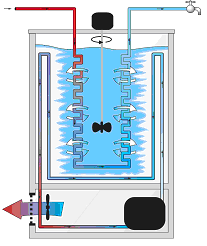 | | | |
| --- | --- | --- |
| MODEL | DKS 150 EF | DKS 250 EF |
| Cooling capacity | to 150 L/h | to 200 L/h |
| Refrigerant | R 290 | R 290 |
| Temperature (chilled water) | 1,5° – 3°C | 1,5° –  3°C |
| Speed (depending on water pressure) | 12- 20 L/min | 12- 20 L/min |
| Water pressure | 1-5 kg/cm2 | 1 – 5 kg/cm2 |
| Maximum test pressure | 16 kg/cm2 | 16 kg/cm2 |
| Compressor power | 1125 W | 1700 W |
| Ice coating | 40 kg | 40 kg |
| Water mains conection (in/out) | R 1/2" | R 1/2" |
| Electrical requirements | 220-240 V, 50 Hz | 220-240 V,  50 Hz |
| Net weight | 71 kg | 82 kg |
| Outter dimensions (H x W x D) | 87,5 x 50 x 53,5 mm | 90,5 x 50 x 53,5 mm |
| Water reservoir volumen (coolant) | 72 L | 72 L |