Rheon ENCRUSTING
The basic product of the Rheon Encrusting Cornucopia machine is a closed or open ball or bar shaped product, consisting of two or three concentric layers. The outer layer could be made of dough, sweet or spicy mass or mixture, while the inner layer may be solid or smooth to very soft or even almost liquid kind of filling. Using an additional filling unit, the product can be filled with two different fillings.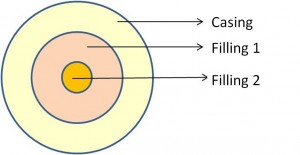 In addition to dumplings and rolls, using Rheon Cornucopia KN machines,  with different optional devices we can create  biscuits and cookies of various shapes and structures, mini cakes, brownies, pralines, as well as burgers, patties, mini pizzas, hot-dogs and many more.
The choice of raw materials that can be used is really very diverse.
It is possible process
dough based on potatoes, rice, corn, semolina and other types of flour,
pastry dough, dough with chocolate chips or fruit pieces and even yeast dough
mixtures and blends of meat, fish and vegetables
various sweet mixes based on chocolate, marzipan, dairy products…
Read more about Rheon Encrusting machines HERE.