The manual dough sheeting machine with integrated long moulder and short tables used for the sheeting of dough blocks and dough sheets of all types up to a working width of 650 and the long moulding of dough pieces such as baguettes, bread rolls, bread sticks, croissants, and many other pastries.
If sheeting and long moulding are two of the functions you expect from a high performance machine, but available space is at an absolute minimum, then the dough sheeting machine ROLLFIX  should come really close to meeting your needs.The "K" in its name stands for compact. ROLLFIX  gets by with a single sheeting table that functions both as an intake and delivery side (when combined with the one-man-operation has its definite advantages).
This complimented by a multi-purpose and high performance moulding machine (long moulder) that renders its service by producing ciabatta, baguettes, bread rolls, sticks, croissants, and many other types of pastries on a minimum amount of floor space.
Features:
Compact and extremely space saving dough sheeting machine for sheeting and for long moulding of round formed products, for wrapping croissants, and for folding bread rolls
For perfect sheeting results on working widths up to 650 mm
Stability: robust stainless steel substructure with lockable castors
Convenient single hand and or foot operation for smooth work flow
Built to stay robust: hard-chrome plated rollers with scrapers; corpus, tables, and table supports made of stainless steel
Simple cleaning: the scrapers can be dismantled with one grip of the hand
Certified safety
Technical data:
Dough block processing up to approx. 15 kg
Sheeting speed 40 m/min
Working width 650 mm
Roller clearance 0.1 – 42 mm
Table lengths 1.0 – 1.4 m (to the right); 1.2 m on the long moulding side
Add-ons: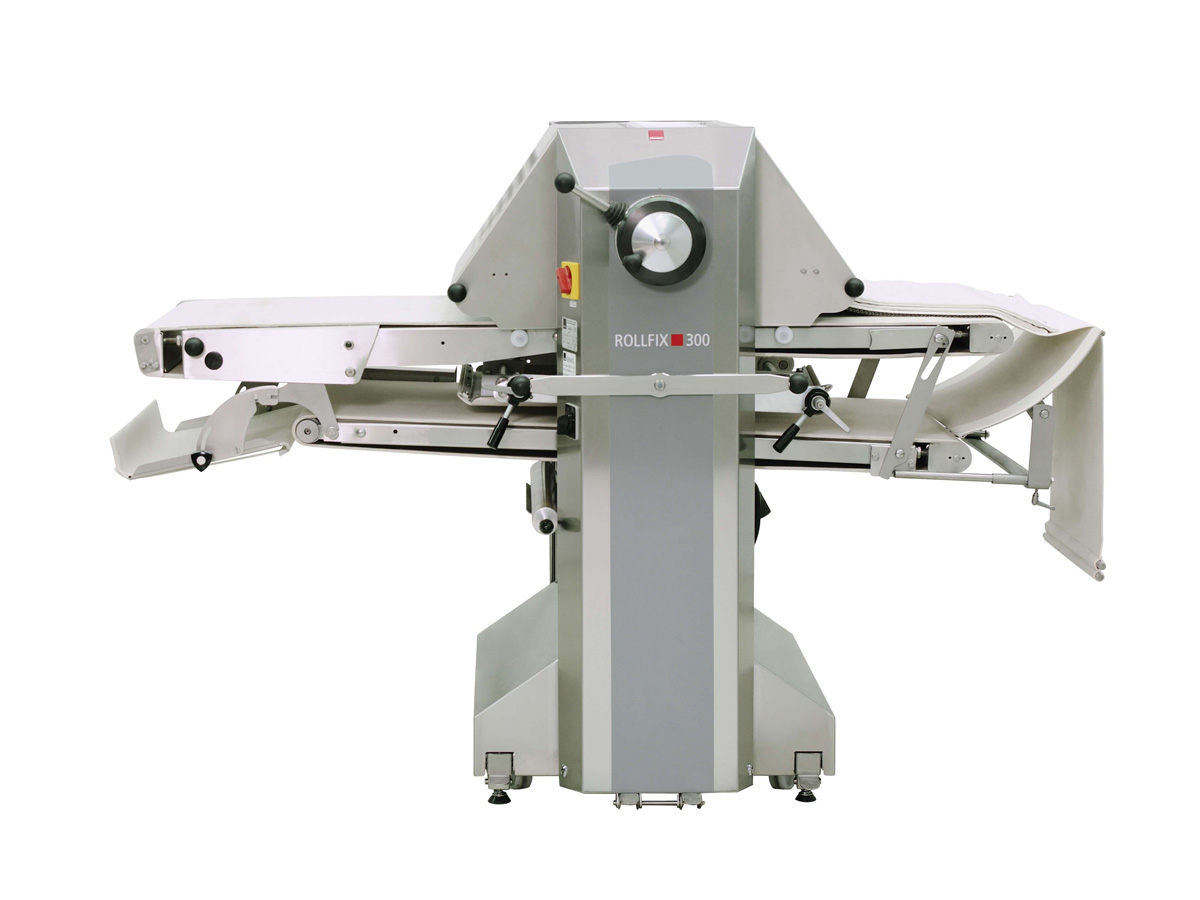 Rollfix 300 WK