Universal planetary mixers IME
For a variety of uses – from kneading dough, whipping cream to mixing ground meat.
Ideal for use in hotel kitchens, B&Bs, tourist farms, catering establishments, pizzerias, as well as in confectioneries and bakeries, for the preparation of small quantity of mass or cream.
The bowl is removable, the mixing tool can be changed. There are 3 different tools available: a whisk, a dough hook and a flat mixer for the masses.
Different sizes of mixers:
MA, standard – for mixing
MA P – PROFI – for mixing and using auxiliary devices for mincing meat and chopping vegetables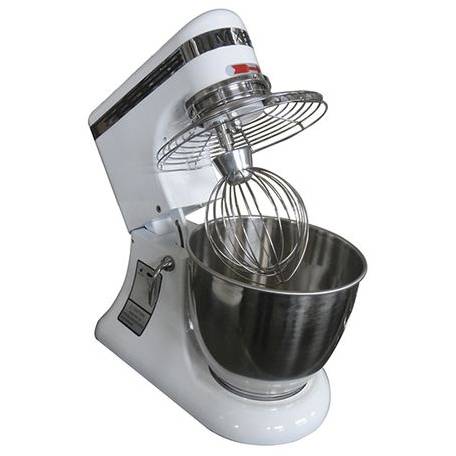 Universal planetary mixers IME
| | | | | |
| --- | --- | --- | --- | --- |
| MODEL | MA 7 | MA 10 | MA 20 | MA 30 |
| Capacity | 7 L | 10 L, 3 speed | 20 L, 3 speed | 30 L, 3 speed |
| Dimension (WxDxH) | 240 x 400 x 425 mm | 470 x 450 x 600 mm | 540 x 490 x 780 mm | 570 x 510 x 890 mm |
| El. connection | 150/250 W -230 V | 600 W -230 V | 1,1 kW – 230 V | 1,5 kW – 400 V |
Also available is the PROFI series with several options:
meat grinder
vegetable cutter

Technical data for MA P (PROFI) series:
| | | | | |
| --- | --- | --- | --- | --- |
| MODEL | MA 10P | MA 20P | MA 30P | MA 40P |
| Capacity | 10 L, 3 hitrosti | 20 L, 3 hitrosti | 30 L, 3 hitrosti | 40 L, 3 hitrosti |
| Dimension (WxDxH) | 500 x 460 x 770 mm | 530 x 510 x 870 mm | 670 x 570 x 1160 mm | 730 x 640 x 1300 mm |
| El. connection | 250 W -4000 V | 370 W – 400 V | 1750 W – 400 V | 1,2 kW – 400 V |